Understanding the positive impact our services and programs have on the community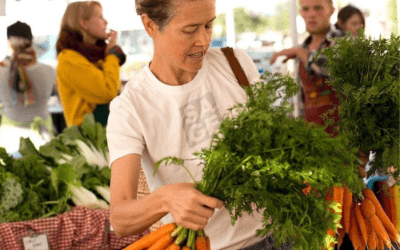 Meet the chef: Andrée FallsAmerican culinary expert James Beard is quoted as saying, "Good bread is the most fundamentally satisfying of all foods; and good bread with fresh butter, the greatest of feasts." Sage Bakehouse owner/baker Andrée Falls agrees. She offers 14...
read more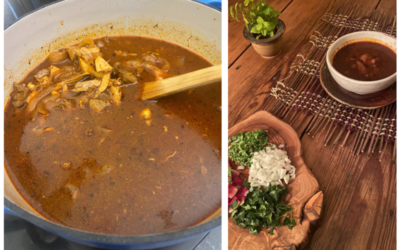 This year's Lotus Farms turkey prompted me to make a red chile posole during Thanksgiving week. I adapted a red chicken pozole recipe from Steve Sando's The Rancho Gordo Pozole Book, making the red chile paste a couple of weeks ahead and freezing it until time to make...
read more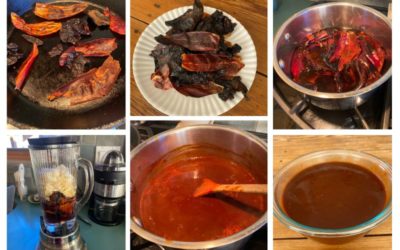 It's the time of year for posole and many other cold-season dishes. To prepare for a making a red turkey posole during Thanksgiving week, I recently made a chile paste and froze it. I'll pull it from the freezer when my pozole is in progress. I'm following Steve...
read more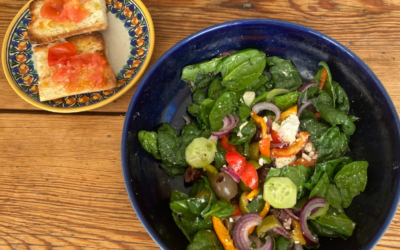 Now that our long, hot summer has ended and cooler temperatures have set in, spinach is returning to the market. I bought some especially tender spinach recently from Green Tractor Farm and made it into a salad for lunch that very day. To the spinach, I added slices...
read more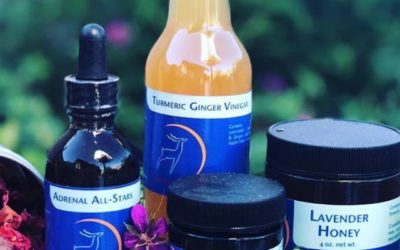 Kate and Susan Feavearyear. Photo credit Sara Digby, Courtesy of Artemisia HerbsSusan began selling at Santa Fe Farmers' Markets in 1995 and was joined by her mother, Kate, twenty years ago. Today she is assisted by her granddaughter Chiara, along with Sara Digby who...
read more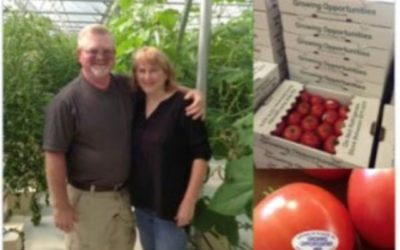 During the grey and dreary days of February, clamoring for color is a natural tendency. There is no more beautiful, delicious treat than the jewel-toned heirloom tomatoes from Kimberly and Steven Martin's Growing Opportunities, Inc. farm in Alcalde, NM.  Kim and Steve...
read more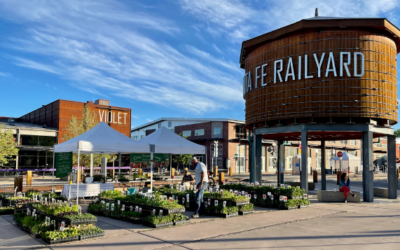 Nothing points to the arrival of spring more than the appearance of plant seedlings at the Santa Fe Farmers' Market. Whether you refer to them as starts, seedlings, or baby plants, they are in abundance at the Saturday Railyard Market this month. Ric Gaudet of One...
read more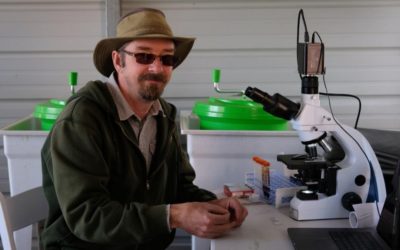 Healthy Soils is a 2023 initiative of the Santa Fe Farmers' Market Institute that will contribute to more profitable farm production while improving the environment. "This initiative is based on the understanding that building healthy soil can reduce the need for...
read more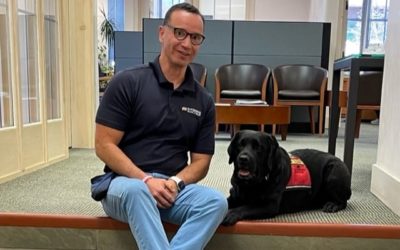 Dion Silva and Gigi, his Assistance Dogs of the West sidekick.Spring is blooming, and so is the Santa Fe Farmers' Market Institute's Corporate Sponsorship Campaign. The Campaign provides an opportunity for small businesses and large corporations in our community to...
read more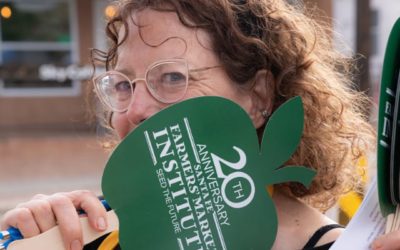 Information Booth Volunteer Sharon Potter Explains the Double Up Food Bucks Program to a Customer. Photo: Adria Malcolm.At the Santa Fe Farmers' Market Institute we express our gratitude to volunteers each and every day. However, in April, we dedicate this article to...
read more