Meet the chef: Nestor Pereira
Recently we caught up with 1999 Regional Classic James Beard Award recipient Katharine Kagel, who is the Owner of Café Pasqual's (121 Don Gaspar, Santa Fe). For more than 40 years, her restaurant has been "serving the very best ingredients we could." Initially fueled by Rachel Carson's book Silent Spring and "the ensuing conversation around pesticides and the hair-raising spoilage of water tables," by the 1990s Kagel had forged an imperative for her restaurant in downtown Santa Fe: "Everything we touch is organic," she said. That means all fruits and vegetables are organic, spices, flour, soy sauce, vinegar all organic – an astounding 280 ingredients that are certified organic. Many are sourced from the Santa Fe Farmers' Market, where Katharine Kagel served on the Board of Directors.
For many years, Dinner Chef Nestor Pereira has shopped at the Saturday morning Railyard District Market for Café Pasqual's. He arrives with a list of essentials for the menu that he and Katharine plan together. Of the partnership, he says that she has "wonderful creativity" that inspires him. He regularly purchases delicate squash blossoms from Rosa Maria Alcantar of Rocio Produce and varies the stuffing from goat cheese to sausage as the seasons change. When available, he sources the sweet, red, skinny Jimmy Nardello Peppers from Matt Romero of Romero Farms. Back in the kitchen, they are grilled, blistered, seasoned with sea salt and lime, and served as the accompaniment for the dinner steaks. He remarked that they create a "long, beautiful presentation." Matt Romero shares that restaurants are an important outlet for farmers. "The upscale restaurants that we sell to enable us to sell more, while adding name recognition and depth of reputation for Romero Farms LLC. When chefs buy from the farmers at the Santa Fe Farmers' Market it sends a message that they believe in the local food system."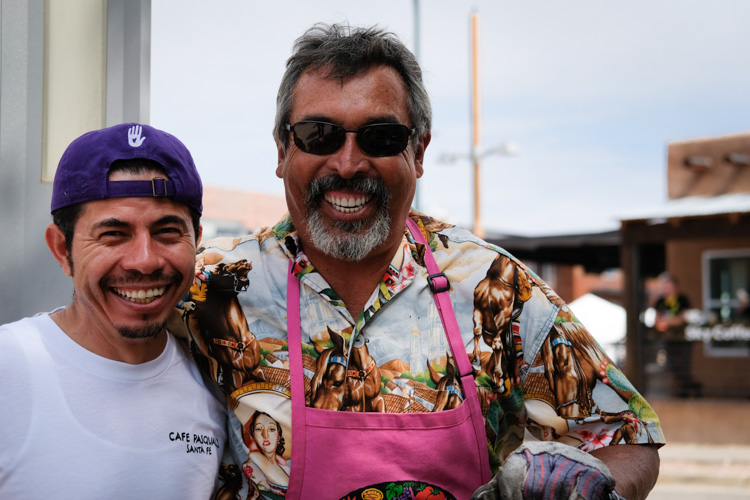 Chef Nestor also looks around the Market to see what he can find and what inspires him for the daily specials and seasonal changes of the menu. The restaurant serves three meals a day, seven days a week, so there is much involved in keeping the menu fresh. The team keeps up this daunting schedule by maintaining its core staff for decades. Chef Nestor has been at Café Pasqual's for 22 years, and he can count nine other employees who have been with him for more than a decade.
Nestor Pereira traces his interest in the culinary arts back to watching his mother and grandmother prepare meals in his native El Salvador. After moving to Santa Fe, he worked his way up in the kitchens of Rio Chama and Coyote Café before landing at Café Pasqual's.
While the quality has been maintained, much has changed at Café Pasqual's since its founding in 1979. Most noticeably an adjoining shop now sells handmade micaceous cookware for the at-home chef, among a variety of hand-crafted items. A gallery was created upstairs in 1995 and features the work of local artists. Katharine Kagel is enthusiastically anticipating the opening of a show on October 7, 2022 by textile artist Karen Hampton. And after visiting the gallery, you can stop down stairs at Café Pasqual's and enjoy a cocktail at the new full bar which is stocked with fresh New Mexico ingredients – of course!