An overview of the Institute's community programs
Founded in 2002, the nonprofit Santa Fe Farmers' Market Institute (the Institute) was created to support the Santa Fe Farmers' Market's efforts to make healthy, locally-grown food easily accessible to the northern New Mexico community. The Institute's first mission was to provide an affordable year-round space for vendors to sell their goods. Railyard Markets take place on Saturday mornings year-round and Tuesday Mornings from May through November (8:00am-1:00pm). We also partner with the Farmers Market to bring fresh, healthy food to the Southside at the Del Sur Market (Tuesdays, July 5-September 27, 2022, from 3:00-6:00pm).
Located in the heart of Santa Fe, The Market Pavilion is a community hub. It can accommodate 600 guests and is regularly rented by community groups and other nonprofits for conferences and workshops, and family celebrations including weddings and quinceañeras. One of only a handful of event venues in Santa Fe of its size (9,300 square feet), there are already more than 30 large scale gatherings planned in 2022.
Market tours are offered twice-monthly at 9am at the Railyard Market. Participants tour the Market like an insider. Led by an experienced guide they see the wide variety of what's growing locally, and talk with farmers' about their crops and experiences.
To address food insecurity in the community, the Institute administers Double Up Food Bucks (DUFB), a program that doubles EBT/SNAP transactions to increase shoppers purchasing power and feed the local economy by supporting its farmers.
Fresh Rx is a food voucher program in partnership with participating medical providers to address dietary-related illnesses and encourage nutritious eating, and the WIC programs for women, infants and children and seniors. The participating medical providers in our area are La Familia Medical Center (Santa Fe), Presbyterian Santa Fe Medical Center, Presbyterian Española Hospital and El Centro Family Health (Española).
In 2021, Presbyterian Medical Center Santa Fe began issuing vouchers to its employees for locally-grown products that are available at the Santa Fe Farmers' Market. Many of the vouchers redeemed were processed at the expanded Del Sur Market located in the Presbyterian Medical Center parking lot on the south side of Santa Fe.
The Institute partners with the Farmers' Market to expand the Del Sur Market, serving the Southside of Santa Fe, where food insecurity is high and access to fresh, local food is limited. Family friendly activities are coordinated with youth organizations such as Cooking with Kids and YouthWorks, an organization that trains at risk teens for jobs in the hospitality and food industries, Big Brothers Big Sisters Mountain Region and others.
In cooperation with the Santa Fe Farmers' Market, the Institute is responsive to needs in the community. Recent community engagement efforts included a wildfire relief effort providing needed items for evacuated families and farms in northern New Mexico, and a blood drive to address a critically-low supply of blood nationwide.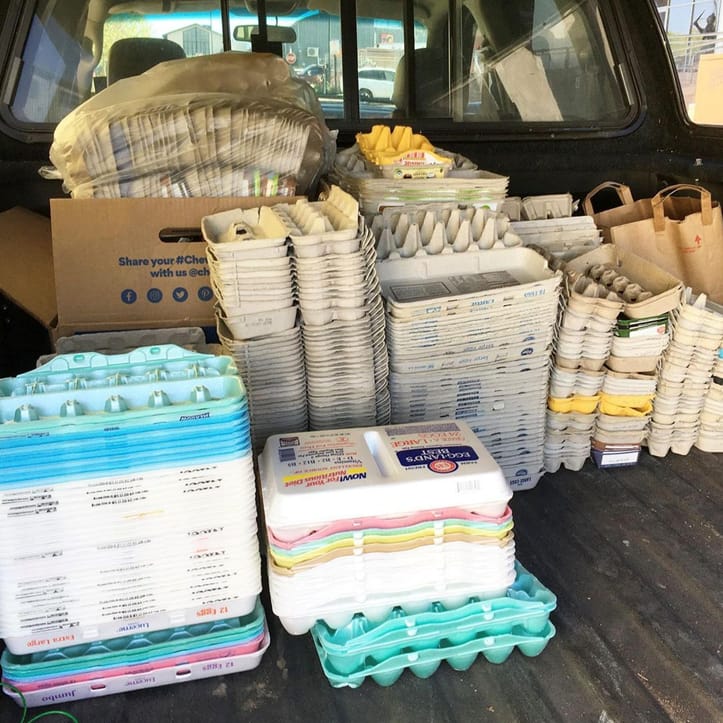 Santa Fe Farmers' Market and the Institute partnered to collect egg cartons for a chicken farmer who lost everything in unprecedented fire in northern New Mexico – 800 cartons were collected at the Institute staffed Information Booth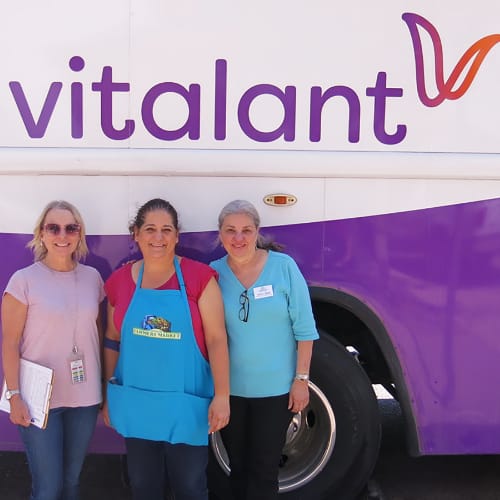 Heidi Chase, Blood Drive Account Manager for Vitalant, Jennifer Fresquez, President of Santa Fe Farmers' Market Board and a Blood Donor, and Janice L. Mayer Development and Communication Director for the Institute. Photo: Christa Dalian