Working With
The Community
Partnering with the community is key to the success of the Institute
The Santa Fe Farmers' Market Institute works in partnership with organizations sharing similar interests and goals to expand its reach into the community. Nowhere is that more evident, than in the collaborations that enrich the offerings and experiences at the Del Sur Market.
Growth of the Del Sur Market
Santa Fe County grew 10% (from 138,704 to 152,149 residents) over the past 18 years, and one third of the population is based in zip code 87507. Recognizing the growth in the neighborhoods on the south side of Santa Fe, the Santa Fe Farmers' Market began to develop a market for fresh produce in the area in 2004.
In 2019, the Del Sur Market moved to the Presbyterian Santa Fe Medical Center parking lot at 4801 Beckner Road (conveniently located just off of the main thoroughfare of Cerrillos Road). The Santa Fe Farmers' Market, Santa Fe Farmers' Market Institute, and Presbyterian Santa Fe Medical Center are working collaboratively to assure that Santa Fe's largest population center has access to fresh, local foods.
Not only has the number of vendors grown, but the offerings include fresh produce, meat, honey, chile, bread, eggs, and much more at this convenient location. The Double Up Food Bucks Program for SNAP recipients (see financials), Fresh Rx (see financials), and Presbyterian Employee Wellness Vouchers are accepted at the Information Booth administered by the Institute. Participants in the WIC Farmers Market Nutrition Program and the Senior Farmers Market Nutrition Program may also redeem their vouchers at the Market – awards replaces vouchers.
In addition, many community partners came together in 2021 to offer informational sessions, workshops, and family-friendly activities. The Institute expresses its gratitude to the Santa Fe Food Policy Council, YouthWorks, Cooking with Kids, and Big Brothers Big Sisters for raising the awareness of this neighborhood resource.
Watch for continued program expansion in 2022 during the DelSur Market which is held Tuesday afternoons from 3 to 6pm beginning on July 5, 2022 and ending on September 27, 2022.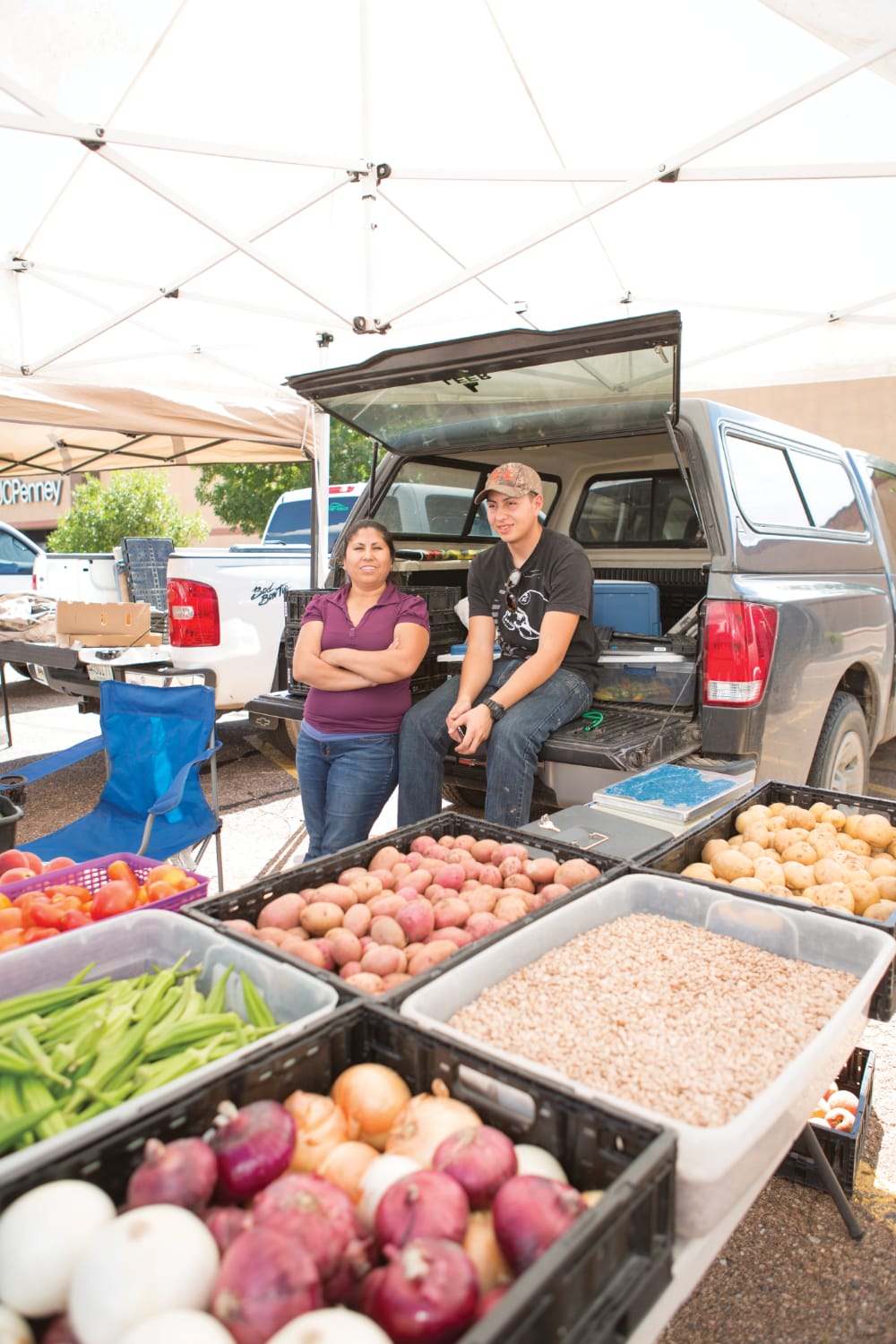 Mother and son vendors Felisa Mendez and Victor Mendez of Mendez Produce. Photo: Gabriella Marks Photography
Presbyterian Santa Fe Medical Center Employee Wellness Program
As stated on the Presbyterian Santa Fe Medical Center's website, "Presbyterian's purpose is to improve the health of the patients, members, and communities we serve – and one of our most important communities is our own employees. Our employees have access to fun, engaging, and unique wellness benefits to support an active, healthy, and mindful lifestyle."
One of the planks in its wellness platform is providing Employee Wellness Vouchers for the Del Sur Market. In 2021, 214 Presbyterian Employee Vouchers were redeemed for a total of $2,140 of fresh produce, meat, and bread.
We express our appreciation to the following like-minded organizations