Understanding the positive impact our services and programs have on the community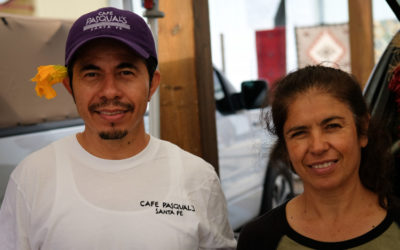 Meet the chef: Nestor PereiraRecently we caught up with 1999 Regional Classic James Beard Award recipient Katharine Kagel, who is the Owner of Café Pasqual's (121 Don Gaspar, Santa Fe). For more than 40 years, her restaurant has been "serving the very best ingredients...
read more
Sometimes I discover a new dish and wonder how I've lived so long without making and eating it.  This salad from Genevieve Ko for The New York Times is one of these dishes. Not only is it delicious and nutritious, but it is also simple and fast to prepare. Corn is...
read more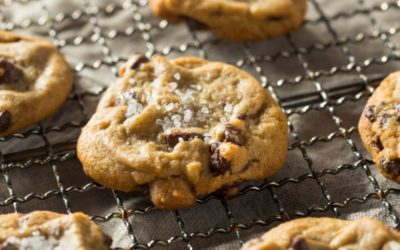 The RecipeIngredients 1 3/4 cups, light brown sugar 1 cup melted butter 1 egg 1 egg yolk 1 tablespoon vanilla 2 cups all purpose flour 1 cup of old-fashioned, rolled oats 1/2 teaspoon baking soda 1/2 teaspoon kosher salt 2 cups semi-sweet chocolate chips Maldon flaked...
read more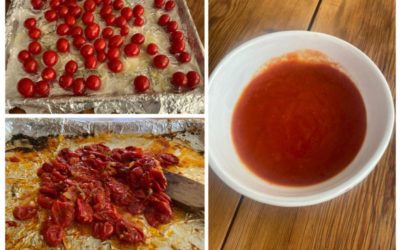 The Vagabond Farmers have been bringing Principe Borghese tomatoes to market, which I look forward to each year. This variety is a small, grape-shaped Italian heirloom, and it is perfect for roasting in the oven and turning into sauce. I like adapting Deborah...
read more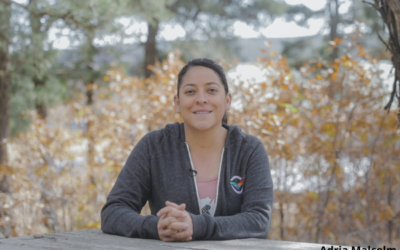 The popular proverb, "if you want something done, ask a busy person" fits New Mexico native Val Wilson to a 'T'. Wife to Grant, mother of two elementary school children, poultry and pig farmer, Director of Veterinary Operations for Animal Humane New Mexico and a newly...
read more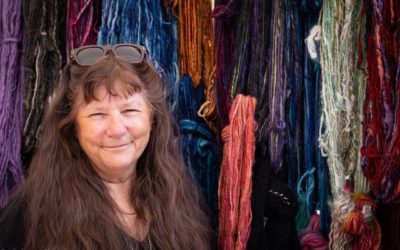 Growing up on the small island of Harbor View, Connecticut (population 112) Coral Clark learned the qualities of self-sufficiency, inventiveness, and community-mindedness. These characteristics combined to make her the successful weaver, knitter, and farmer that she...
read more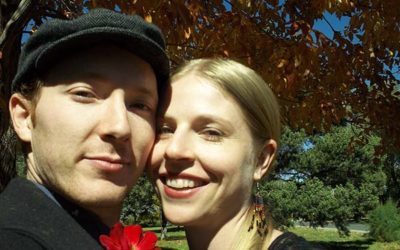 A conversation with Jasmine and Zach Cecelic in May, 2021 What is a signature item that you sell? Daffodils and Mushrooms What's the best way to store it? Daffodils can last a very long time if you change the water each day, trim the stem ends and even put them in the...
read more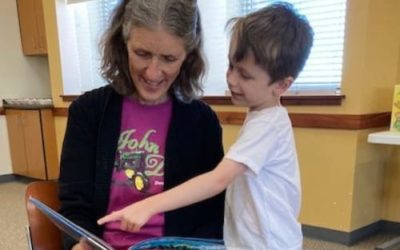 Mary Dixon of Green Tractor Farm Reads to Children at the Santa Fe Public Library's Southside Branch with the Assistance of her grandson Major, who was visiting from New York City. Photo: Janice MayerThis year, the chicken or egg paradox is on everyone's lips. Parents...
read more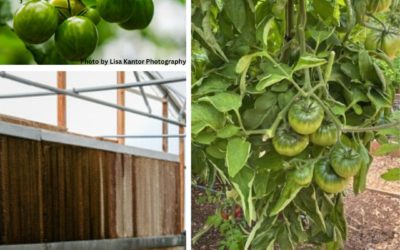 Khalsa Farm. Photos: Flora Gutierrez and Lisa Kantor PhotographyJanuary is National Mentoring Month. However, for one of our Santa Fe Farmers' Market Farms, mentoring is a year-round activity. Sirivishnu Singh Khalsa, President of Khalsa Family Farms, Inc. shared his...
read more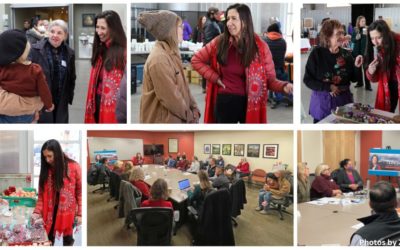 Photo caption starting from the top left. Mabel Meets the Congresswoman; 2022 Farmer All Star Annie Krahl of Annie's Herbs offers the Farmers' perspective on processing WIC and DUFB transactions with Congresswoman Teresa Leger Fernández; 2021 Farmer All Star Marie...
read more