More Fresh Fruits
and Vegetables
Fresh edible prescriptions for those experiencing food insecurity
Parents have admonished their children to eat more fruits and vegetables since the dawn of time. Now the Harvard T. H. Chan School of Public Health has confirmed that, "A diet rich in vegetables and fruits can lower blood pressure, reduce the risk of heart disease and stroke, prevent some types of cancer, lower risk of eye and digestive problems, and have a positive effect upon blood sugar, which can help keep appetite in check."
Locally, the University of New Mexico Hospital has reported that, "one in nine New Mexicans has diabetes, and one in three are on their way to having the disease." "Diabetes and prediabetes are conditions on a continuum marked by blood glucose (blood sugar) levels that are higher than normal due to defects in insulin production, insulin action, or both," according to NM-IBIS. In addition to the incalculable human suffering, "In New Mexico, treating complications from diabetes in the state reportedly costs $2 billion per year."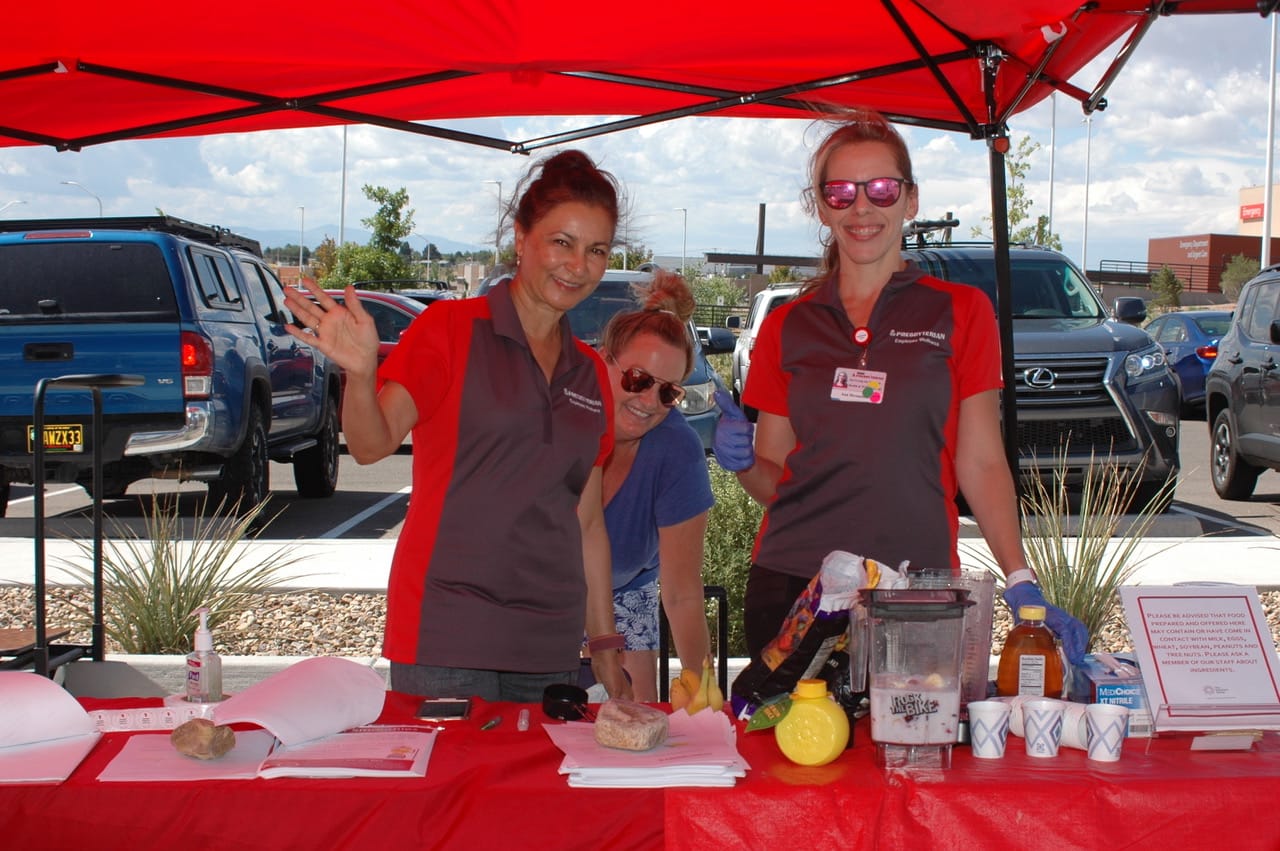 Presbyterian Santa Fe Medical Center Employees offer information at the Del Sur Market. Photo: Courtesy of Presbyterian Santa Fe Medical Center
Fresh Rx addresses the issue of diet-related illnesses for those experiencing food insecurity.
Patients present prescriptions issued by a participating medical provider at Santa Fe Farmers' Market Information Booth locations and receive tokens to purchase fresh produce.
Fresh Rx providers include La Familia Medical Center in Santa Fe, Presbyterian Española Hospital, Presbyterian Santa Fe Medical Center, and El Centro Family Health (Española).
The Fresh Rx program was piloted at the Santa Fe Farmers' Market in 2017. After a pandemic hiatus, the Institute partnered with the New Mexico Farmers' Marketing Association to renew and expand the program. In 2021, 356 Fresh Rx prescriptions were redeemed for $7,085, which represents 1,771 bunches of fresh-picked carrots or 1,181 pounds of Anasazi beans.