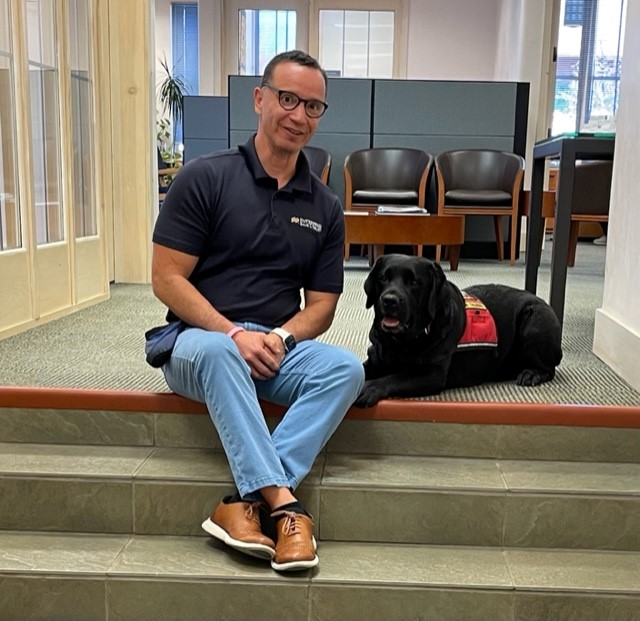 Dion Silva and Gigi, his Assistance Dogs of the West sidekick.
Spring is blooming, and so is the Santa Fe Farmers' Market Institute's Corporate Sponsorship Campaign. The Campaign provides an opportunity for small businesses and large corporations in our community to promote their businesses while supporting the Santa Fe Farmers' Market Institute.
If you have attended a community event recently, you were sure to see A. Dion Silva, Regional President – Santa Fe, NM of Enterprise Bank & Trust. The Executive Treasurer of the Board of Directors of Assistance Dogs of the Southwest – one of four nonprofit Boards that he currently serves on – makes his way around Santa Fe with his black Labrador Retriever, Gigi, who he has trained from a pup to be a service dog. Assistance Dogs of the Southwest is one of the 67 nonprofit organizations supported by Enterprise Bank & Trust, and fits neatly into the bank's five pillars of support: Animal Welfare, Social Welfare and Health, Economic Development, Education, and Youth.
Enterprise Bank & Trust is a lead sponsor of the Santa Fe Farmers' Market Institute, which straddles three Enterprise pillars: Social Welfare and Health, Economic Development, and Youth. Sponsorships may benefit the organization as a whole, or be restricted to a specific area of the Institute's work. Enterprise Bank & Trust's sponsorship is dedicated to the Double Up Food Bucks program, which doubles the purchasing power of SNAP recipients at the Santa Fe Farmers' Markets. Dion is especially committed to the Del Sur Market, which helps to address food insecurity on the underserved Southside of Santa Fe. He said, "At Enterprise, we believe we have a responsibility to be good stewards of the community. This includes ensuring that everyone has access to fresh, nutritious foods and the ability to choose healthy eating options. The Del Sur Market supported by the Santa Fe Farmers' Market Institute delivers locally-produced food at its best to the Southside of Santa Fe. It is an exceptionally important outlet in what is otherwise considered a food desert." (The Santa Fe Farmers Market is open year-round Saturday mornings at the Railyard, and the Del Sur Market is open on Tuesday afternoons from July through September in the Presbyterian Santa Fe Medial Center parking lot on Beckner Road.)
Enterprise Bank & Trust's partnership decision are made by the local Enterprise team. The CEO of Enterprise Bank & Trust, which is headquartered in Clayton, Missouri, believes that "each region should be managed locally from a community investment perspective," according to Silva. He continued, "There are three threads entwined in the bank's benevolence: time, talent, and treasure. Employees are encouraged to volunteer their time in support of charities and are rewarded with individual volunteer time off for their efforts. Employees also volunteer on boards and think tanks, drawing on their knowledge and skill. In addition to corporate sponsorships, employee contributions to nonprofit organizations are matched up to $1,000."
"We all live in this community, and we believe in the aphorism that a rising tide lifts all boats," said Silva. "We're always thinking about the multiplier effect – what else can we do? Maybe it is something as simple as making introductions or more comprehensive such as providing access to the free online Enterprise University. Enterprise University offers a broad menu of talks by experts on business topics to support more helathy sustainable businesses, which in turn contribute to a healthy, sustainable community. Santa Fe small businesses don't have a budget for continuing education; this provides opportunity," Silva said.
Silva encourages businesses in Santa Fe to consider corporate sponsorship. "Growing up in New Mexico, my mother would quote the Biblical passage, 'To Whom Much is Given, Much is Expected.' I believe that we can all make a difference to varying degrees. We all have something to give to strengthen our community."
Sponsorship is a reciprocal relationship, with businesses receiving advertising and promotional opportunities, invitations to events, employee volunteer projects and much more. For information on how your business may support the Santa Fe Farmers' Market Institute, please visit the Institute's Corporate Sponsorship page, or e-mail Janice@farmersmarketinstitute.org.