Current Weather
at   the Institute
Our state of the art weather station was made possible by a generous donation from Bob Nurock.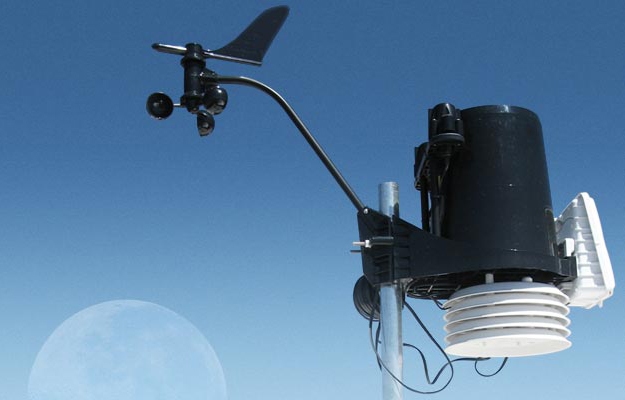 Our state of the art weather station was made possible by a generous donation from Bob Nurock. Bob is a retired investment advisor and stock market analyst who came to Santa Fe in 1975 to enjoy the world's best weather and best farmers' market, as well as Santa Fe's people and cultural pursuits. Not only does Bob love fresh fruits and veggies and the weekly gathering of the community at the Market, he also loves Santa Fe's arts and cultural institutions and serves as a Board Member for the Museum of New Mexico Foundation. We asked Bob if he'd help us with the weather station because everyone thought the Farmers' Market Building was the best place for a downtown weather station, and he gladly agreed.
The original idea for installing a weather station came from Richard Jennings of Earthworks Designs, whom we met while coordinating the placement of the water catchment monitors in a cabinet at the Farmers' Market Building. Jennings designed the water catchment infrastructure in the Railyard for the Trust for Public Land, and we played a small part by providing the cabinet for the monitors just outside the Market Hall so that the levels of rainwater in the catchment tanks could be easily monitored. Jennings has a weather station at his house and offered to oversee the effort to get one installed at our building downtown.
With Nurock and Jennings on board, we next needed a computer genius to help us get the information from the weather station on the roof to the public monitor in the cabinet downstairs on the west side of the building. Jennings suggested Bobby Hake, who generously joined our efforts. Hake is a computer consultant who's worked in Santa Fe for over 30 years on things like server installations, remote access and wireless, area networking and everything in between. He said he's never advertised and is "into being a family man." And if he could, he'd wear a shirt that says "analog man," but admits that what fascinates him about his work is "not just following directions, but configuring in a real world environment to meet the reality of the hardware" he's working with. He was the perfect person to figure out how to get the weather information from our rooftop through the computer, down to the monitor and on to the web.
The final result is a state of the art Davis Weather Center that is linked to and certified by NOAA.
Many thanks to Bob Nurock for funding our efforts and to Richard Jennings and Bobby Hake for offering their expertise to take on the airport and provide more accurate downtown weather information.