Understanding the positive impact our services and programs have on the community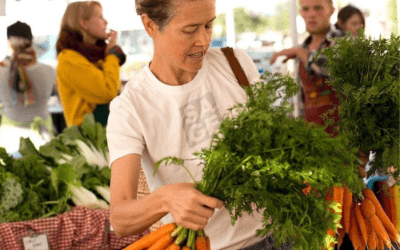 Meet the chef: Andrée FallsAmerican culinary expert James Beard is quoted as saying, "Good bread is the most fundamentally satisfying of all foods; and good bread with fresh butter, the greatest of feasts." Sage Bakehouse owner/baker Andrée Falls agrees. She offers 14...
read more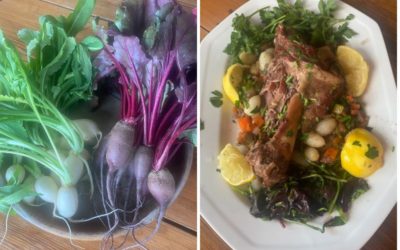 It's a great time at the market for winter greens and root vegetables, especially hakurei turnips – those beautiful, small white Japanese turnips – and baby red beets. At a recent market, I bought a bunch of each from El Guique Farm and went home and pulled a...
read more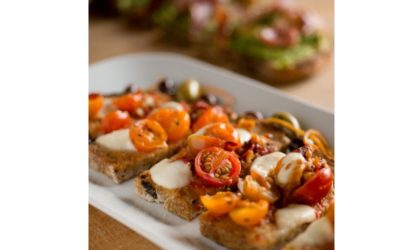 Ingredients 1 loaf Sage Bakehouse Kalamate Olive bread, sliced 2 Tablespoons Extra Virgin Olive Oil 1 Local Heirloom Tomato, sliced 2 oz.  Mozzarella Curd Coarse Sea Salt and Coarse Black Pepper PREPARATION Put the slice of bread under the broiler and toast it until...
read more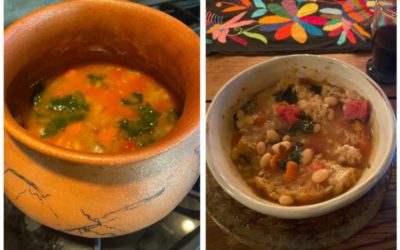 Many varieties of dried beans are available at our farmers' market throughout the year. I keep a supply in my pantry, supplemented by beans I purchase from Rancho Gordo, a Santa Rosa business that's a great source of heirloom beans. Beans are inexpensive, nutritious,...
read more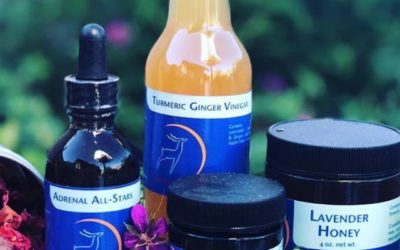 Kate and Susan Feavearyear. Photo credit Sara Digby, Courtesy of Artemisia HerbsSusan began selling at Santa Fe Farmers' Markets in 1995 and was joined by her mother, Kate, twenty years ago. Today she is assisted by her granddaughter Chiara, along with Sara Digby who...
read more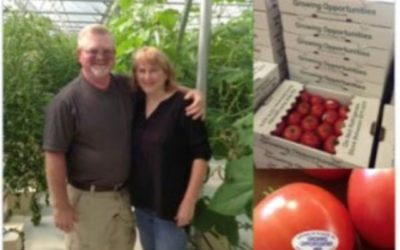 During the grey and dreary days of February, clamoring for color is a natural tendency. There is no more beautiful, delicious treat than the jewel-toned heirloom tomatoes from Kimberly and Steven Martin's Growing Opportunities, Inc. farm in Alcalde, NM.  Kim and Steve...
read more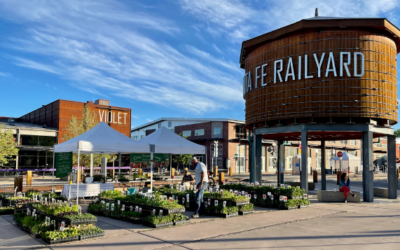 Nothing points to the arrival of spring more than the appearance of plant seedlings at the Santa Fe Farmers' Market. Whether you refer to them as starts, seedlings, or baby plants, they are in abundance at the Saturday Railyard Market this month. Ric Gaudet of One...
read more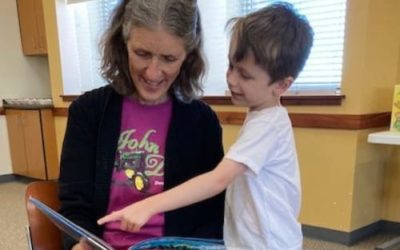 Mary Dixon of Green Tractor Farm Reads to Children at the Santa Fe Public Library's Southside Branch with the Assistance of her grandson Major, who was visiting from New York City. Photo: Janice MayerThis year, the chicken or egg paradox is on everyone's lips. Parents...
read more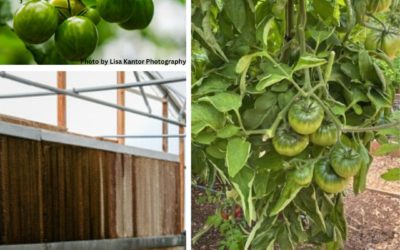 Khalsa Farm. Photos: Flora Gutierrez and Lisa Kantor PhotographyJanuary is National Mentoring Month. However, for one of our Santa Fe Farmers' Market Farms, mentoring is a year-round activity. Sirivishnu Singh Khalsa, President of Khalsa Family Farms, Inc. shared his...
read more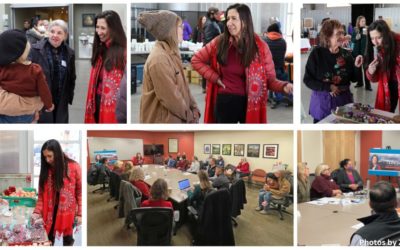 Photo caption starting from the top left. Mabel Meets the Congresswoman; 2022 Farmer All Star Annie Krahl of Annie's Herbs offers the Farmers' perspective on processing WIC and DUFB transactions with Congresswoman Teresa Leger Fernández; 2021 Farmer All Star Marie...
read more