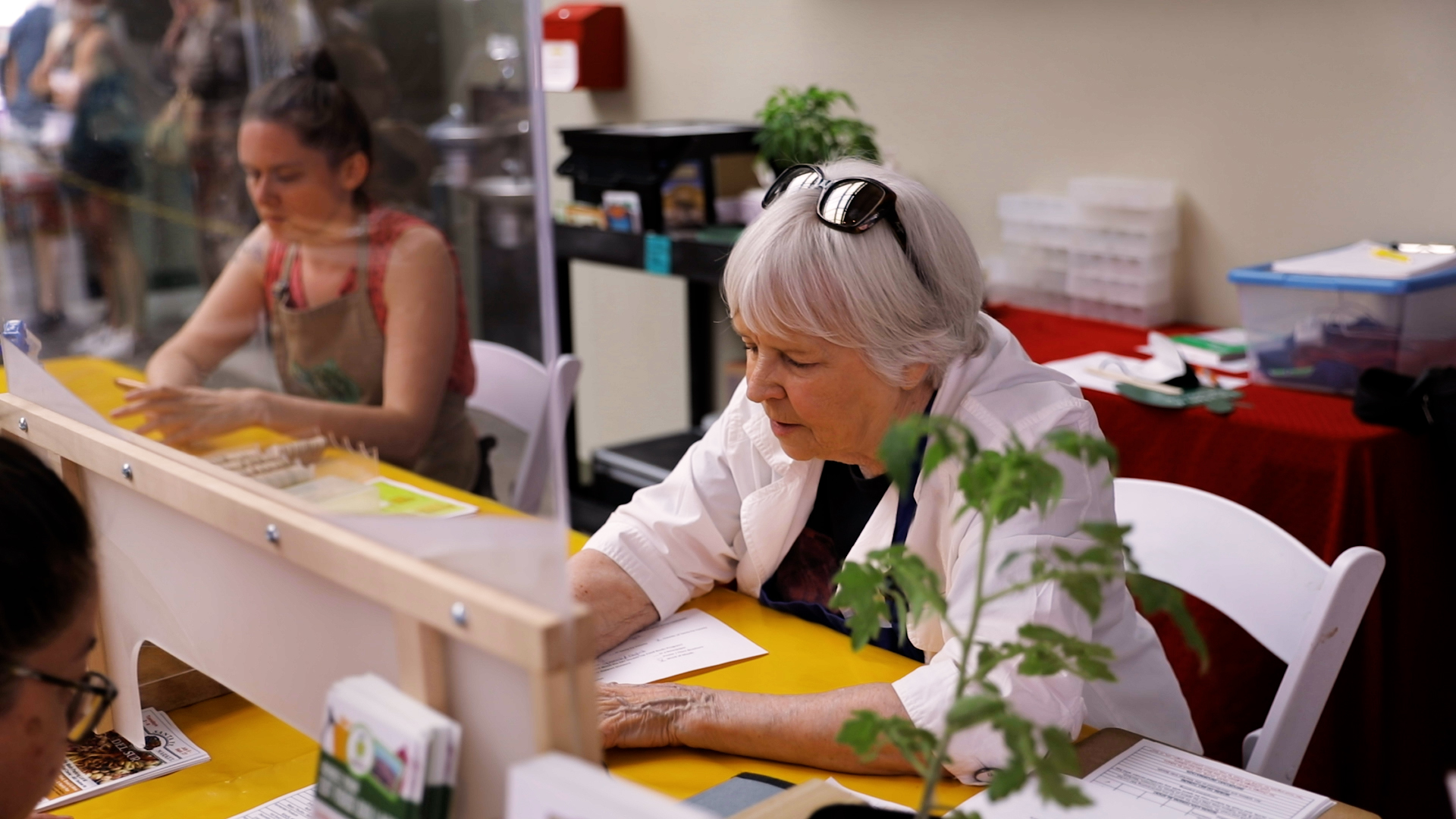 Information Booth Volunteer Sharon Potter Explains the Double Up Food Bucks Program to a Customer. Photo: Adria Malcolm.
At the Santa Fe Farmers' Market Institute we express our gratitude to volunteers each and every day. However, in April, we dedicate this article to the volunteer corps during Global Volunteer Appreciation Month. From Board and committee members to docents, Information Booth volunteers, and all of the special event supporters, we are truly indebted to you. It may sound like a cliché, but we could not do what we do without you!
Information Booth volunteer Sharon Potter spends her Saturday mornings at the Santa Fe Farmers' Market patiently explaining the Double Up Food Bucks and Fresh Rx program to customers. Her dedication and discretion are essential qualities as she honors our guests and helps them navigate the system, assuring that every citizen of Santa Fe has access to nutritious, locally produced food. However, this is not Sharon's first tour of duty as an Institute volunteer.
Born in Ohio and raised in St. Louis, Sharon moved to New Mexico 30 years ago to work for the Los Alamos Technical Association. Having worked in construction management "all over the country" before landing in Santa Fe, Sharon was one of the very qualified people who former Executive Director Sarah Noss turned to when crafting the Request For Proposal (RFP) for the building. (A RFP is a business document that announces a project, describes it, and solicits bids from qualified contractors to complete it.) Sharon also interviewed contractors and made recommendations. Once the building was open, she returned to the Institute as a docent. She thoroughly enjoyed meeting and supporting the farmers, and fondly remembers bear hugs from Jesus Guzman, 2018 Farmer All Star of Jesus Guzman Produce in Nambé. COVID and a bout with sciatica sidelined her for a few years, but she returned to the Institute assisting at the Santa Fe Farmers' Market's Saturday Railyard market in her essential position at the Information Booth where she can remain seated.
When asked what attracted her to volunteering, she said, "I've been volunteering my whole life."
A longtime supporter of the League of Women Voters – one of the early proponents of the Santa Fe Farmers' Market – Sharon stays politically active. As a volunteer, she seeks out organizations that support women, such as the Esperanza Shelter and the Institute. The Institute recognizes that more than 50% of the farmers at the Santa Fe Farmers' Market are women and is rolling out a Women in Agriculture program this year in response.
Docent Jonni Lu Pool says she was "riveted" to learn that Northern New Mexico has a high percentage of women farmers, and that it is an honor to volunteer and work with such accomplished women. As a matter of fact, Jonni Lu served on the All Star Selection Committee in 2022, which chose four women-owned businesses as the All Stars. Her contributions on the All Star Selection Committee augmented her volunteer work on the Santa Fe Farmers' Market Inspection Committee and folllowed a three-year term on the Market's Board of Directors.
Retired from the New Mexico State Government, where she worked for 12 years, Jonni Lu was delighted to accept volunteer positions that incorporated a variety of tasks, but no supervisory responsibilities. As a docent, she gives farmers breaks from their booths, carries messages (and sometimes food back and forth between booths in bartered trades), and distributes informational brochures. She even handed out masks during COVID. "Docents have to be knowledable about the programs and policies of the Institute and flexible enough to shift into another assignment, if needed," she said. Recognizing that Santa Fe is a haven for dogs and their owners, Jonni Lu offered the little known fact that Jim Whiteker of Red Mesa Meats sells 'discochitos' for dogs. A very good tip for dog owners to assuage their guilt when leaving their pooches at home while shopping at the Santa Fe Farmers' Market.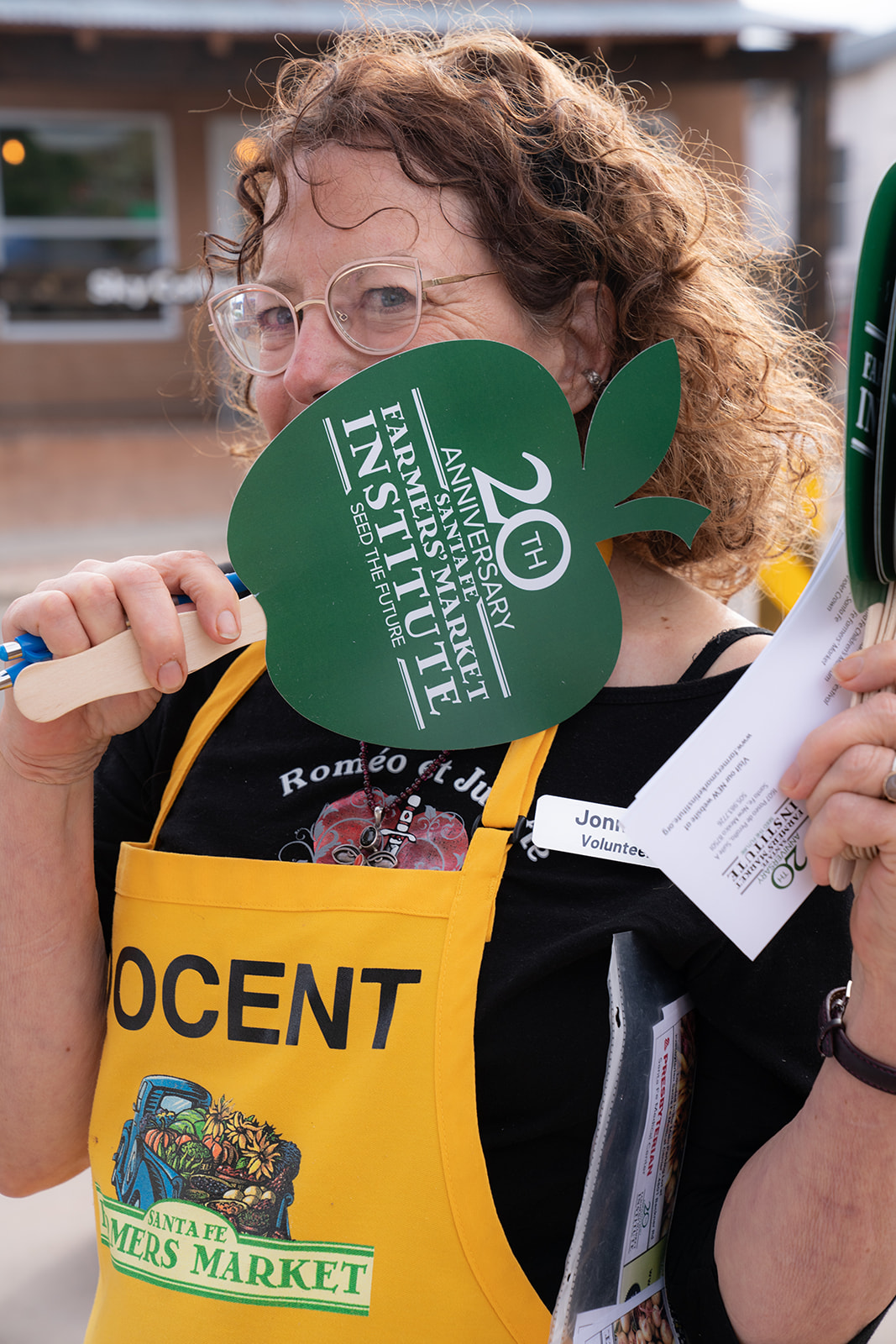 Docent Jonni Lu Pool Volunteers at the Institue's 20th Anniversary Celebration.
When asked if she would recommend volunteering at the Santa Fe Farmers' Market to others, Sharon said, "I love talking with customers, especially tourists. I am so impressed by the Market. Of all of the volunteer work I've done in my whole life, this is the most enjoyable." Jonni Lu added that "I think of time as a gift. When I'm giving my time to the Institute, I always get much more than I give. I have learned so much about the local ecology from the farmers."
We thank Sharon and Jonni Lu for sharing their stories and for their years of service. The Institute volunteers are truly the ambassadors of the Santa Fe Farmers' Market Institute. If you would be interested in volunteering at the Santa Fe Farmers Market Institute, please connect with us here.