Doubled SNAP transactions
to help out shoppers and
support local farmers
For more information on applying DUFB's benefits to the Santa Fe Farmers' Market's Community Sourced Agriculture (CSA), now called "My AG Bag," please click here.
What is the Need?
New Mexico has the third highest poverty rate in America at 19.1%, per the 2019 US Census Bureau data. This means that one in five New Mexicans, including 26% of our children, live in poverty and with food insecurity.
The Santa Fe Farmers' Market (SFFM) farmers hail from 15 northern New Mexico counties with an average of 28% poverty rate; 10% higher than the state average. Many of our hardworking farmers are SNAP recipients, as are their neighbors.
Exacerbating the problem is lack of access to sufficient, nutritious food; nearly one-third of New Mexicans live in food deserts – meaning one mile from fresh food sources in urban areas and at least 10 miles from fresh food in rural areas. This leads to 75% of residents replacing fresh food with overly-processed foods. Critically children experiencing food insecurity are at a higher risk of obesity, diabetes, and impaired development.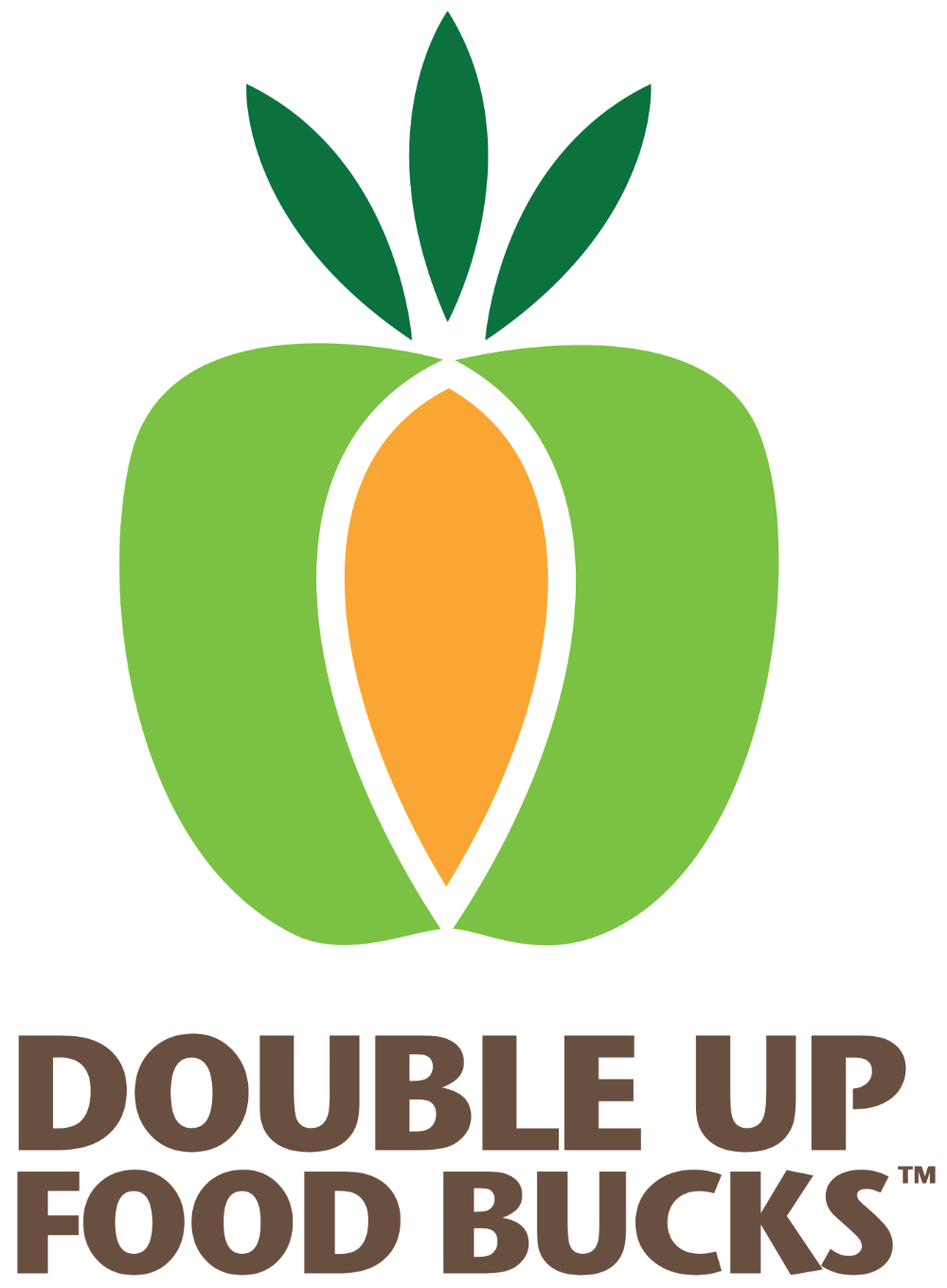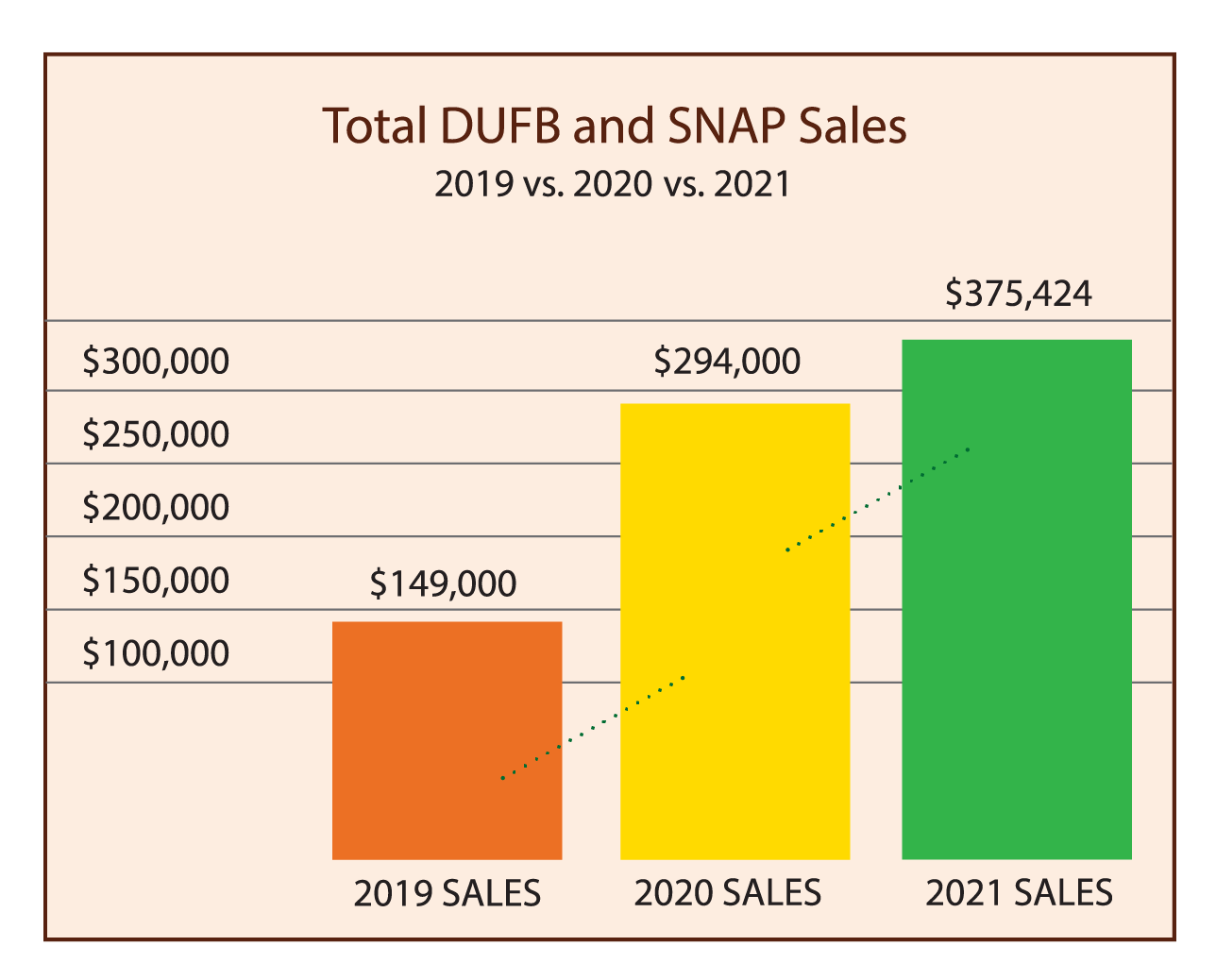 DUFB program participants are all beneficiaries of Supplemental Nutrition Assistance Program (SNAP), previously known as the food stamp program.
Today, the number of SNAP participants in New Mexico is higher that it has been in six years, with 28% of New Mexicans receiving SNAP benefits.
Families with children make up 67% of SNAP participants in New Mexico. Households with disabled family members comprise 27% of SNAP participants in the state.
More than half of New Mexico's SNAP participants are members of working families, including approximately 2,000 agricultural workers. (Income and American citizenship are verified before SNAP benefits are extended.)
What is DUFB?
Double Up Food Bucks is a program that doubles SNAP transactions to increase shoppers' purchasing power and feed the local economy by supporting its farmers. The Institute implemented Double Up Food Bucks (DUFB) in 2010 with private funds, and continues to administer the program today, in collaboration with the New Mexico Farmers' Marketing Association, with support from the USDA and the State of New Mexico.
How does it work?
Individuals who are approved for benefits through the New Mexico Human Service Department, are issued a New Mexico Electronic Benefits Transfer Card (EBT). The EBT card is used like a bank debit card. Each month the participants' approved benefit amount is deposited into their EBT account. Recipients of SNAP benefits use their card to purchase qualified food items at any of the Santa Fe Farmers' Markets. SNAP tokens issued at the Information Booth may be used to purchase a wide range of fresh food items from produce to meat, poultry, eggs, and bread. DUFB funds may be used to purchase fresh fruits and vegetables, beans, peas, chile, and herbs.
All EBT card draws are matched dollar for dollar through the Double Up Food Bucks Program, essentially doubling the participants' purchase power for fresh, nutritious, local produce.
What is the Institute's Response?
Over the past three years, the amount distributed by the Santa Fe Farmers' Market Institute to support healthy purchasing power at the Santa Fe Farmers' Market has increased by 152%. In 2021 alone, 318 new participants were served through the Institute's Information Booth. Some of the increased need can be attributed to the pandemic with the resulting loss of employment for many.
In 2019 $149,022 fresh produce dollars were distributed through our token system; in 2020 the amount grew to $294,126; and in 2021 the Santa Fe Farmers' Market Institute experienced a record-breaking $375,424 distributed to qualifying families for fresh, local produce.
The CSA Connection
Qualifying SNAP families participating in the Double Up Food Bucks Program may purchase subscriptions to the Santa Fe Farmers' Market's community supported agriculture program at half price. Now titled "My AG Bag," the program offers a weekly assortment of six to nine fresh produce items from Market vendors, curated by the Santa Fe Farmers' Market Staff. CSA shares offer an opportunity to try unfamiliar items and explore new recipes provided by the Market.
The bags are packed and ready for pick-up on the Chili Line Lane side of the Market Pavilion from 3-6pm Wednesdays. The easy pick-up offers great convenience to shoppers.
My AG Bag subscriptions must be purchased in advance at the Institute's Information Booth at a Tuesday or Saturday Market.