A Gracious Good Afternoon: A Conversation with Susan Feavearyear, Founder of Artemisia Herbs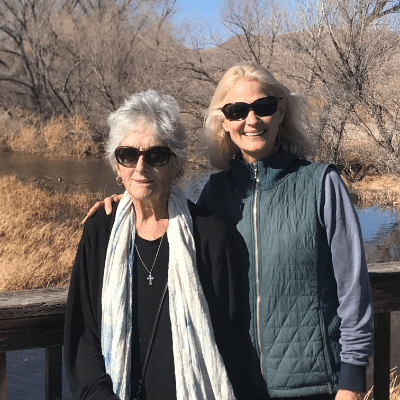 Kate and Susan Feavearyear. Photo credit Sara Digby, Courtesy of Artemisia Herbs
Susan began selling at Santa Fe Farmers' Markets in 1995 and was joined by her mother, Kate, twenty years ago. Today she is assisted by her granddaughter Chiara, along with Sara Digby who is part of her extended chosen family. Sara has served as the Business Manager for six years, and is credited with instilling "more modern ways" into the business, including designing the website. Susan's mother, a gracious lady who turns 90 this month, has her own following at the Santa Fe Farmers' Market, partly generated by her beguiling British accent. Susan describes her mother as "charming, graceful, kind, and compassionate – almost to a fault." Kate follows an abundance-based philosophy, fundamentally believing that the more ones gives, the more that returns. "She would give medicine to anyone who needed it, whether or not they had the capacity to pay for it," Susan said.
Spending an hour talking with Susan Feavearyear, is, well … medicinal. The founder of Artemisia Herbs is a multi-faceted spiritual counselor, herbal consultant, and a transformational energy healer — all while running her successful in-person and online herbal shop.
Founded in 1992, Artemisia Herbs is an all-woman enterprise now in its fourth decade. Artemisia Herbs is a provider of locally sourced, ethically wildcrafted and organically grown plant medicine within New Mexico. The family run company also offers a line of bath and beauty products. Based in Dixon, Susan feels at home with the "diverse, small community composed of organic farmers and artists of all genres: writers, weavers, and potters. It is a community of togetherness, where I am working with people living alternatively and appreciating local food sources."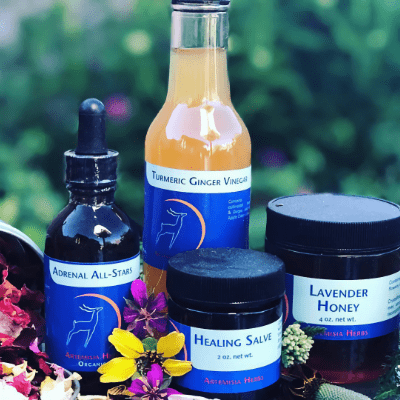 Artemisia Herbs products on display. Photo credit Sara Digby, Courtesy of Artemisia Herbs
Kate's generosity of spirit was instilled in Susan, who spent years working side-by-side with a homeopathic health provider in a small clinic in rural New Mexico. Following training with Gaia Herbs, and revered herbalist Michael Moore, Susan soaked up the environment at Herbs Etc. in Santa Fe. She also sought out elders, shamans, curanderas, aboriginal healers and herbal advocates worldwide. Born in Montreal, Susan's wunderlust was instilled at an early age. "Raised by British parents, we traveled abroad to visit relatives annually, and those trips would extend to the continent. I remember that we were always looking at a map, plotting our next trip," Susan said.
Her personal trips extended from Africa to Australia, where on her 30th birthday in the outback she ran into several people who mentioned Santa Fe, New Mexico. It was the kind of synchronicity that has appeared throughout her life. "I have always loved diversity and believe in the unity of the human race, so New Mexico with its indigenous community and ethnic diversity appealed to me." Once in the Southwest, she began "listening to the native plants," at one point growing and harvesting 85 distinct herbs to create her teas, tinctures and other medicines and products. Today, nearby farmers grow the herbs to her specifications for use in Artemisia Herbs' lab.
Along the way Susan realized that she was becoming a bridge between the plants and the people. "I was always highly intuitive and I began to recognize levels of blockages – emotionally and spiritually – that were impacting a client's health. I saw the interrelatedness of body, mind, and spirit. I didn't name it until twenty years ago, but I came to realize that my lifetime of learning has led me to this healing and counseling work." She maintains a life balance between her consultations and running her company through her continued study of music, alongside yoga, meditation and spiritual practices.
When asked how she has maintained and grown her business over 40 years, she credits her work ethic. "My advice to a young woman entrepreneur would be to work hard and demonstrate consistency: showing up is important – literally showing up! Quality of product is essential, as is kind, respectful customer service. I think Artemisia Herbs gets an A+ in customer service, which is infused by my mom's generosity of spirit and magical quality."
Artemisia Herbs may be found at the Santa Fe Farmers' Market year-round, and online.