Stories of Past Celebrations
Come celebrate and Explore the events that the Santa Fe Farmers' Market Institute hosts.
Seed The Future Spring Luncheon
Mathew and Nina Ladegaard opened their beautiful two-acre Ground Stone Farm in Nambé, New Mexico to nearly 50 patrons of the Santa Fe Farmers' Market Institute on a recent sun-drenched Sunday afternoon. The occasion was the kick-off of the Institute's year-long 20th Anniversary celebration.
This event – the first of its kind at Ground Stone – featured a three-course luncheon curated by Adobo Catering with produce and products from a dozen of the Santa Fe Farmers' Market vendors, including many items coordinated by Nina's Squash Blossom Local Food.
Guests enjoyed New Mexico's finest wines from Gruet Winery and enjoyed signature nonalcoholic "Sparkling Ground Stone" Blueberry-Mint Lemonade (recipe below). Violinist Jeffrey Smith and cellist Katie Rietman performed musical selections by Dario Castello and Antonio Vivaldi to the delight of the guests.
Board Chair Michael Knight welcomed the guests, and Board Secretary and Green Tractor Farm's Mary Dixon, thanked Mat and Nina for hosting the group. Ann Lavine shared her perspective on the Double Up Food Bucks Program gleaned at the Information Booth where she volunteered for the past year. Veteran farmer and author Stan Crawford of El Bosque Garlic Farm described how the Institute's Microloan Program benefited his business, explaining how a four row garlic planter purchased with a low-interest microloan "saved us time and labor costs during the autumn, the most intense season on the farm."
After speakers profiled the Institute's program impact, Board Treasurer Kyle Burns announced a $25,000 contribution from The John C. Griswold Family Foundation expedited by fourth generation Griswold Trustee and Board Member Nathaniel Earls. This donation provides the basis for a three-to-one 20th Anniversary challenge campaign. The Institute received an anonymous $20,000 donation toward the challenge, and the paddle-raiser led by Stan Crawford at the event brought the nonprofit organization more than halfway toward achieving the $100,000 goal.
The lovely afternoon was capped off with a farm tour led by Ground Stone owner Mat Ladegaard. Board Vice Chair Pam Walker observed, "When we sit down to enjoy a meal, how often do we pause to consider the farmers who grew the food and where and how they grew it? Mat and Nina's guiding us through their plots of vegetables, their hoop houses, and their washing and packing station gave us glimpses of the enormous work that farmers do day in and day out, and in all weathers, to bring us good food. But just as much as revealing the great labor involved, the tour showed us something else, too. It showed us the even greater love that inspires such labor: love for nourishing the earth and love for nourishing the community it feeds. Our community."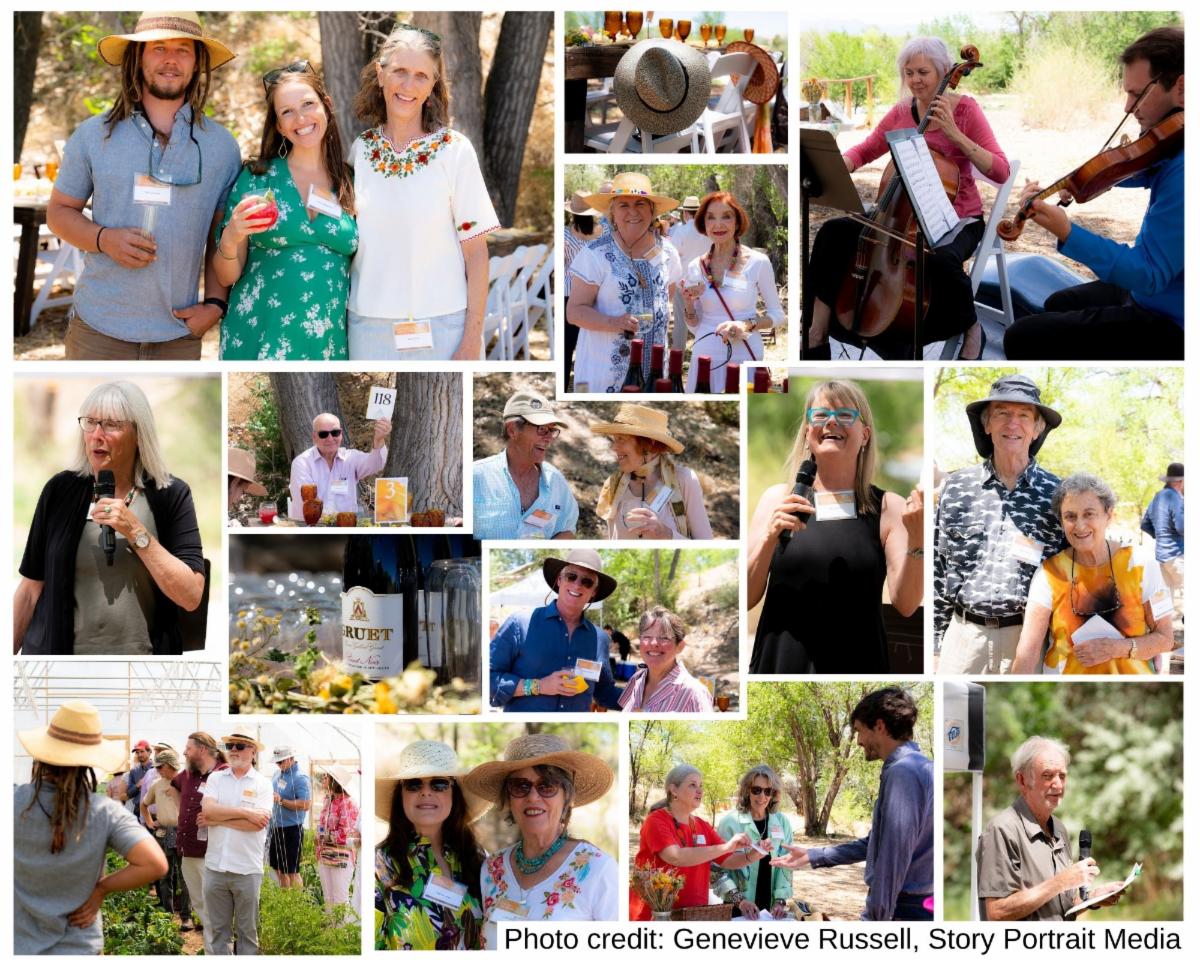 From upper left clockwise:
Our hosts Mat and Nina Ladegaard pictured with Mary Dixon of Green Tractor Farm; Straw hats – a sure sign of approaching summer; Development Chair, Lisa Kantor with Maureen Vosburgh of Remy's Good Day Foundation; Katie Rietman (cello) and Jeffrey Smith (violin) offered lovely Early Music selections; Longtime Institute and Market supporters Keith Anderson and Barbara Lenssen; Ann Lavine delighted guests with her remarks on the DUFB Program; El Bosque Garlic Farm Owner Stan Crawford speaks about the impact of the Microloan Program; Development and Communications Director Janice Mayer and Volunteer Rebecca Tobey welcome Nathaniel Earls, Board Member and Trustee of The John C. Griswold Family Foundation; Patrons Marsha Jones and Linda Osborne pictured at the luncheon; Mat Ladegaard conducts a tour of his farm while guests David Snead and Charles Butler look on; Andrea Fisher Maril introduces Program speakers; Board Chair Michael Knight lift his paddle in the fundraising portion of the afternoon; Doug Conwell and Sallie Bingham share a story; Institute Board Member Robert W. Jones and Board Vice Chair Pam Walker visit; Gruet Winery, our generous wine sponsor pictured with table decorations created by Arella Hordyk of Green Tractor Farm
On Sunday, September 26th, the Santa Fe Farmers' Market Institute hosted its first in-person fundraising event in two years. Forty guests traveled by Santa Fe Valet to the KitFox site in the Galisteo Basin. Upon arrival, guests listened to guitarist Roberto Capocchi while toasting with Gruet's award-winning Brut NV.
Surrounded by extraordinary vistas, Dig & Serve caterers served a delicious farm-to-table brunch with produce sourced from the Santa Fe Farmers' Market in the Railyard the day before. Farmers Susan Higgins (Sungreen Living Foods, LLC) and Pilar Abadia (Anna Maria's Farm) offered heartfelt words about the impact of two Institute programs: the Microloan Program and Double Up Food Bucks.
Introduced by Board Chair Michael Knight, and led by Interim Executive Director Andrea Maril, guests generously responded to the paddle raise with $20,000 in contributions. That coupled with the underwriting from Corporate Sponsors: Descartes Labs, Elsner Law & Policy LLC, Enterprise Bank & Trust, Guadalupe Credit Union, Hutton Broadcasting, New Mexico Bank & Trust, Payne's Nurseries & Greenhouses, Inc. and Thornburg Investment Management made the return from the pandemic a rousing success. Thank you to all who participated and supported the Harvest Brunch and the Santa Fe Farmer's Market Institute's mission.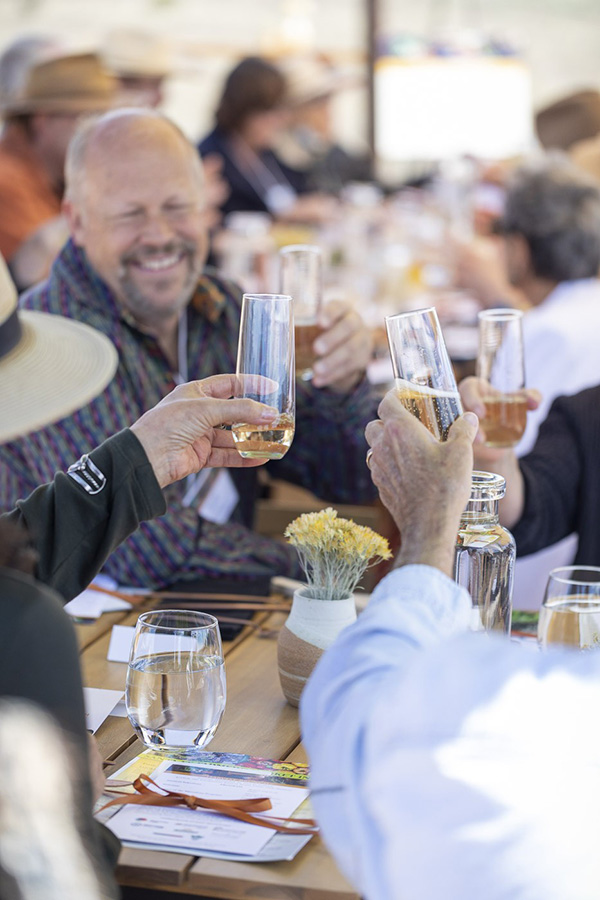 The Santa Fe Farmers' Market Institute welcomed the local farming community to the Market Pavilion on Thursday evening, December 9th for a celebration titled Seed The Future. The friend-raiser drew a sold-out crowd of 200 guests.
Institute Board Chair Michael Knight and Executive Director Andrea Fisher Maril reflected on the Institute's past, profiled the organization's programs (including a presentation by microloan recipient Asher Singer of Reyah Sunshine Farm, LLC. and moving Double Up Food Bucks testimonials shared by Market Programs Manager Anna Griswold), and planted seeds for the future.
Six outstanding farmers and farms were recognized with awards presented by Santa Fe Banker Kenneth E. Romero and Mary Dixon, Secretary, Board of Directors Santa Fe Farmers' Market Institute, who was a 2013 Farmer All Star for her Green Tractor Farm. Videos of the deserving farms created by Cut Print Video Production were also shown to the delight of the audience. All are invited to view the videos on our website.
Jacqueline "Jackie" Gibbs, Culinary Program Director for YouthWorks! oversaw the catering of the event. YouthWorks! is a cutting-edge, innovative organization offering a continuum of services designed to reconnect "at-risk" and disadvantaged youth with our community through education, employment training, and job placement. David Sundberg, curated the farm-fresh bohemian menu, and subsequently joined the Santa Fe Farmers' Market Institute Team as Program Development Director in January. Menu ingredients were sourced from the Santa Fe Farmers' Market thereby supporting local agriculture. Second Street Brewery, Gruet Winery, and La Mesa Farms were the generous beverage sponsors.
In addition to delicious food, beer, and wine guests enjoyed the "earthy jazz" of the Rhombus Quartet led by guitarist Ross Hamlin.
A successful paddle-raiser led by auctioneer Mark C. Johnson, Director of Sales and Business Development for New Mexico Fresh Foods, raised $22,250 for the Institute's programs. Combined with ticket sales and business sponsorships, the community celebration was a financial success.
Board Vice Chair Pam Walker closed the evening with words of gratitude for those who gathered and contributed to the success of the evening. Of particular note were the 22 volunteers who gave of their time and talent, and the 17 business sponsors who supported the event.