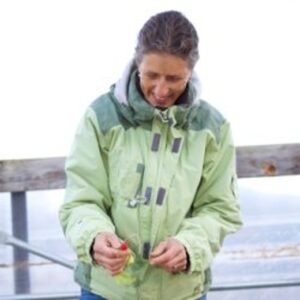 Mary Dixon
Secretary, Green Tractor Farm
Mary Dixon has lived in Santa Fe most of her life. She graduated from Santa Fe High School in '71 and UNM in '75, taught elementary school and pre-school for many years, managed the paperwork for her husband Tom's small construction company and then started farming full time in 2006, when Green Tractor Farm became certified organic growers.
She and Tom, who grew up on the farm in La Cienega, started farming the land as a team in 1981 and began selling at the Santa Fe Farmers' Market in 2001. With full time jobs off–farm, most of Green Tractor acreage was in alfalfa, but the vegetables, grapes, fruit and flowers grew until the passion for farming and the community of the Farmers' Market convinced them to stop off-farm work and dedicate all their energy to farming.
The farm has now been passed on to the 3rd generation: daughter Rachel and son-in-law Ned, do the vegetable farming, while Mary and Tom work on the never ending vineyard work. Helping with washing, sorting, packing the vegetables for Saturdays market is a weekly affair for Mary, as is most Saturdays at the market. Mary loves being at the Market, selling and visiting with customers and never tires of hearing people tell her how much they enjoy the produce and their appreciation to her family for growing it.