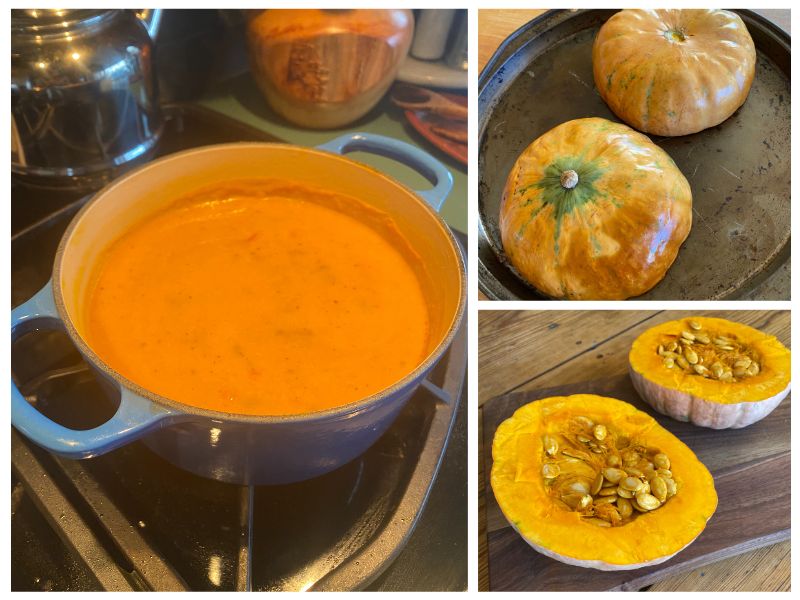 Winter squash and pumpkins are abundant and beautiful at the market now. I began making this soup in various versions many years ago based on a recipe in the New York Times. I can no longer find the recipe in my files or online, but a recipe with precise measurements isn't necessary. You can wing it and make your own adaptations to the ingredients and methods I provide here.
I used a kabocha squash and garlic from El Bosque Farm and poblanos and onions and tomatoes from several other farms. I made chicken stock from a Lotus Farms chicken.
A small to medium size winter squash or pumpkin
 Two or so small yellow onions, thinly sliced
 A clove or two of garlic, minced
 One or two poblanos, dry roasted stovetop in a cast iron skillet and then diced
 Several tomatoes, peeled and seeded
Chicken stock
 A half cup or so of half and half
 Fresh sage leaves (or recently dried)
 Pine nuts, maybe a quarter of a cup, dry roasted stovetop in a cast iron skillet
 Salt and freshly ground black pepper
Preheat the oven to 350 degrees.
 Cut the squash or pumpkin in half and scoop out the seeds. Place halves on a cookie sheet or pizza pan and bake for about thirty minutes until the flesh is soft but not mushy.  When cool, scoop the flesh from the skin.
 Saute the onions, garlic, and poblanos in olive oil in a stock pot, and then add the tomatoes to the mix and saute a little more.
 Add the stock and then add the pumpkin or squash, gently stir the mixture, and simmer for half an hour or so, adding salt and pepper during the simmering.
 When cool, put the soup in a food processor or a blender, or use an immersion blender to blend the ingredients.
 Return to stock pot and add the half and half and sage to taste and perhaps also add more salt and pepper.
 Serve the soup topped with pine nuts.
This locally inspired recipe is brought to you by Pam Walker. Pam is an avid home cook, writer, and local farm and food activist who is also a board member of the Santa Fe Farmers' Market Institute. Thank you, Pam, for helping inspire us to use locally sourced ingredients!