Green Cabbage and Sweet Carrots Poriyal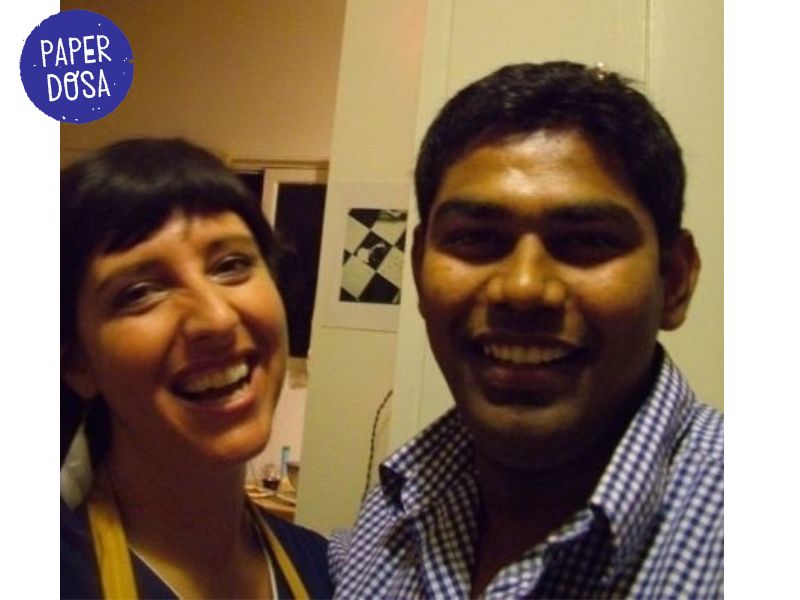 Paper Dosa's, Nellie and Chef Paul, share the secret to their amazingly delicious recipes.
What we would really like to emphasize is – diversify your produce!! We seasonally change up what goes into our salads, soups, uttapams, chutneys, sambars, and curries. This is what inspires us. We do serve meat, as we want to feed the whole Santa Fe community, but vegetables are what talk to us the most and the ONLY way to get fresh veggies is through a farmer, plain and simple… 
2 medium size Carrots (chopped fine)

10 Ounces Cabbage (chopped fine)

1 tablespoon Coconut oil

¼ teaspoon Mustard Seeds

¼ teaspoon Cumin Seeds

2 Dry Red Chillies

2 Green Chillies (chopped)

2 sprigs Curry Leaves

1 medium sized ReOnion (chopped fine)

Salt to taste

3 oz Coconut (fresh shredded)

A pinch Asafoetida 
Heat Coconut oil add Mustard seeds to crackle, then add Red Chili, Curry leaves ,a pinch of Asafoetida

Add chopped red onions, green chillies, carrots and chopped cabbage sauté for 3 minutes sprinkle some water to cook – add salt as needed.

When it's almost done add fresh shredded coconut .