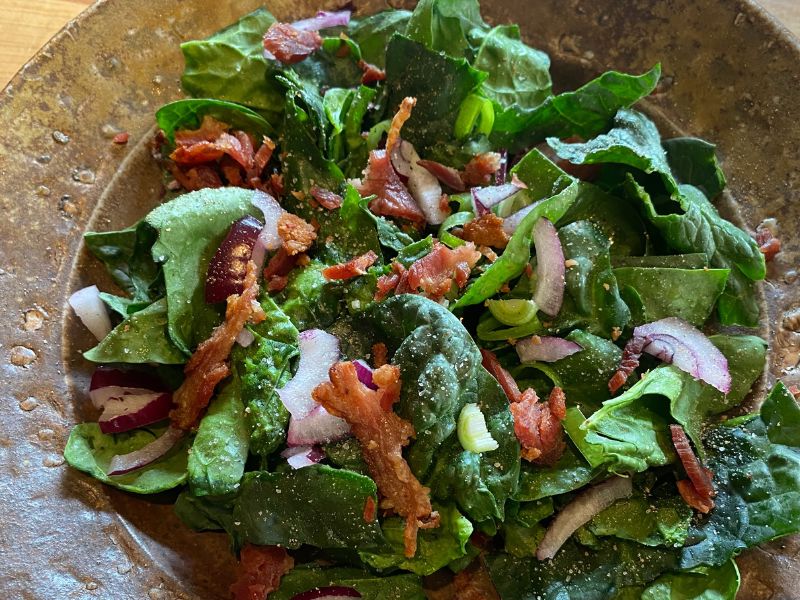 Many farmers are bringing lots of beautiful spinach to the market as spring unfolds. I've been making wilted spinach salad at least once a week. It's a favorite from my childhood. My parents and grandparents enjoyed it, and I always have, too.
Fresh spinach in the quantity you want to eat right away;

Scallions or red onion or both;

One slice or several of bacon;

Unpasteurized apple cider vinegar;

Salt and freshly ground black pepper to taste.
If the spinach is young and small, there's no need to remove the stems. If the spinach is more mature and larger of leaf and more stemmy, I remove the stems. Whatever the case, I place the spinach leaves in a wooden salad bowl.

Chop or mince the scallions. Slice red onion into thin slivers. Add to the spinach.

Fry bacon to desired crispness. Remove from skillet and place on a paper towel briefly. While the bacon fat is still hot, drizzle it over the spinach, toss with cider vinegar to taste, and then crumble the bacon into the mix.

When you feel like eating an egg, a nice addition to the salad is a boiled egg sliced and tossed in at the end. 
This locally inspired recipe is brought to you by Pam Walker. Pam is an avid home cook, writer, and local farm and food activist who is also a board member of the Santa Fe Farmers' Market Institute. Thank you, Pam, for helping inspire us to use locally sourced ingredients!