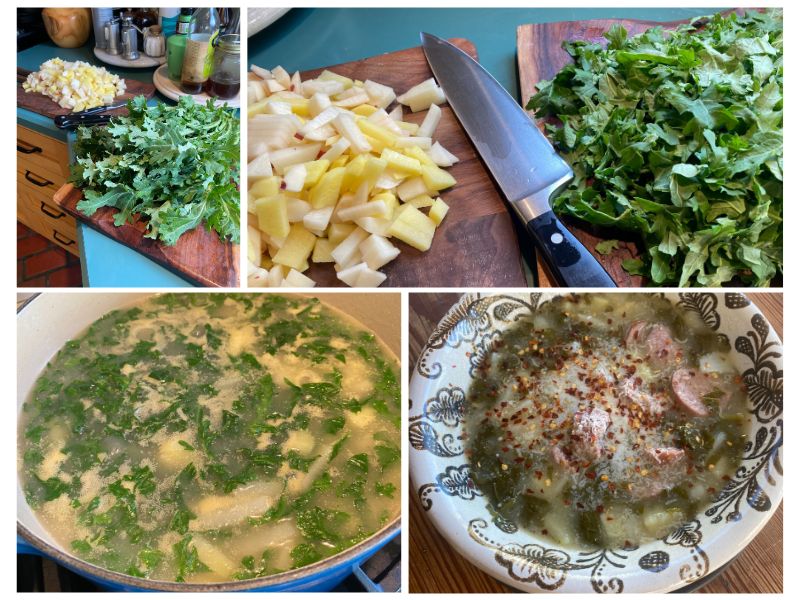 Farmers are bringing bunches and bunches of kale to market these days. And the first new potatoes, from Ground Stone, have just appeared. With winter lingering in intermittent bouts of relentless and coldly biting wind, I crave soups, and recently enjoyed a simple kale and potato soup. The freshness of the kale and potatoes give it a robust flavor beyond what you might expect from so few ingredients. And the texture – the ingredients are not blended – is pleasing, too.
I used a recipe from my well used copy of Alice Waters' Chez Panisse Vegetables, a recipe that also appears in The New York Times Cooking section, adapted a while back by Marian Burros. I topped my soup with freshly grated parmesan cheese and a sprinkling of red pepper flakes.
Yield: 4 servings
1bunch kale (about 1 pound)

2

pounds Yellow Finn or other flavorful boiling potatoes

2

quarts water

1

teaspoon salt

1

sliced garlic sausage (optional)

Extra-virgin olive oil
Remove the stems from the kale, wash the leaves and cut them into strips about half an inch wide. You should have about 6 to 8 cups.

Peel the potatoes, and chop them up very fine. Add the salt to the water, and bring it to a boil. Add the chopped potatoes, return to a boil and cook for 2 minutes, covered. Add the kale, and cook 2 minutes more. Taste for seasoning, and add salt if necessary. Serve with a splash of olive oil and, if desired, the garlic sausage heated briefly in the soup.
This locally inspired recipe is brought to you by Pam Walker. Pam is an avid home cook, writer, and local farm and food activist who is also a board member of the Santa Fe Farmers' Market Institute. Thank you, Pam, for helping inspire us to use locally sourced ingredients!