Braised lamb shanks with turnips, greens, and lemon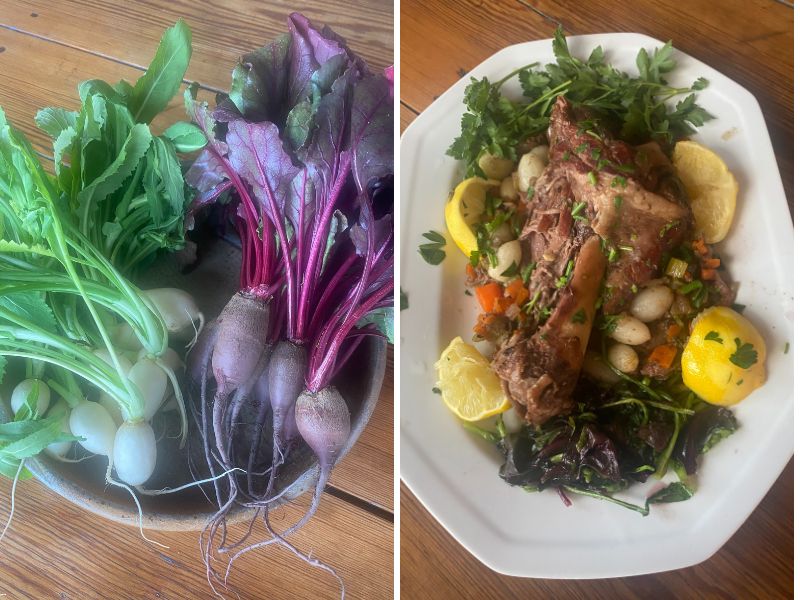 It's a great time at the market for winter greens and root vegetables, especially hakurei turnips – those beautiful, small white Japanese turnips – and baby red beets. At a recent market, I bought a bunch of each from El Guique Farm and went home and pulled a Shepherd's lamb shank from my freezer. What to do, what to do?I wondered and flipped through a few favorite cookbooks. I decided to adapt a Mark Bittman recipe to satisfy my craving for roots and greens and lamb, making two changes. I substituted hakurei turnips for the potatoes he calls for, and I braised hakurei leaves and some beet leaves in a separate small pan and added them to the pot with all the other ingredients at the end. The flavors, textures, aromas, and colors satisfy several senses at once.
Yield: 4 servings
3 tablespoons extra virgin olive oil

4 lamb shanks, roughly a pound each
Salt and pepper to taste
3 or 4 thyme sprigs
6 cloves garlic, lightly crushed
1 large onion, cut into chunks
4 stalks celery, roughly chopped
4 medium carrots, peeled and roughly chopped
2 cups dry white wine or water
1½ pounds waxy potatoes, peeled and cut into chunks
1 lemon
Chopped fresh parsley leaves for garnish
Put oil in a large, deep skillet or casserole that can be covered later, and turn heat to medium-high. Add shanks, sprinkling them with salt and pepper. When pieces are deeply browned on one side, add thyme, garlic, onion, half the celery and half the carrots, and more salt and pepper to skillet. Continue to brown, stirring occasionally.

Add wine, and let mixture bubble for about a minute; cover and adjust heat so that mixture simmers steadily. Cook for about an hour.
Add remaining vegetables to pan; zest lemon, and add zest as well. Continue to cook until lamb is very tender and vegetables soft, another 30 to 45 minutes. (You can prepare dish up to this point in advance; let sit for a few hours, or cover and refrigerate for up to a day before reheating and proceeding.)
When lamb is done, juice lemon, and add juice to sauce. Taste, adjust seasoning, and serve, garnished with parsley.
This locally inspired recipe is brought to you by Pam Walker. Pam is an avid home cook, writer, and local farm and food activist who is also a board member of the Santa Fe Farmers' Market Institute. Thank you, Pam, for helping inspire us to use locally sourced ingredients!