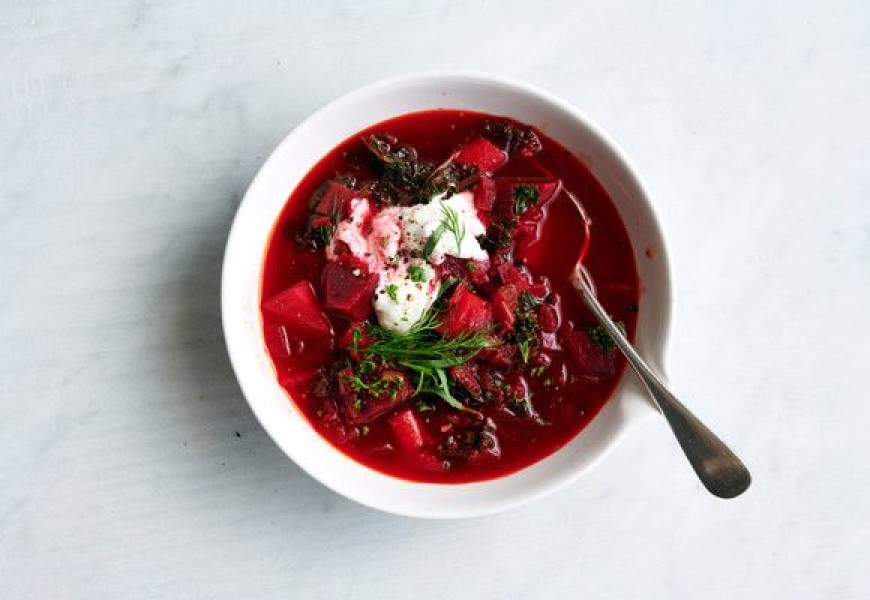 Image courtesy of David Malosh for The New York Times.
Beets are back at the Market, mainly red ones, and they are beautiful! This David Tanis recipe from his NYT column, "City Kitchen," appeared last week, and the beautiful photograph by David Malosh caught my eye.
I'm from a southern family, and though we ate beets, they were boiled and not very interesting or appealing. I never heard of borscht until I was a young adult and had my own kitchen and purchased my own cookbooks so that I could explore new foods. Borscht, when beets were in season, became one of my favorites. I don't recall ever making borscht without also making a beef stock for its base, but this David Tanis recipe is equally robust and probably way more beautiful.
Yield: six – eight servings
2 tablespoons extra-virgin olive oil or unsalted butter
1 large onion, diced (about 1 1/2 cups)
1 cup diced celery
1 large leek, diced (about 1 cup)
Salt and pepper
4 garlic cloves, minced
1 tablespoon tomato paste
1 teaspoon paprika
½ teaspoon caraway seeds
1 bay leaf
1 thyme sprig
1 pound Yukon Gold or other starchy potatoes (about 6 potatoes), peeled and cut in
1-inch chunks
1 pound medium beets (about 6 beets), peeled and cut in 1-inch chunks
½ pound medium carrots (about 4 carrots), peeled and cut in 1-inch chunks
3 cups chopped kale
1 tablespoon apple-cider vinegar, or to taste
2 tablespoons grated fresh horseradish
1 tablespoon lemon juice
½ teaspoon salt
Pinch of granulated sugar
1 cup crème fraîche or thick sour cream
Dill, parsley, tarragon and chives, for garnish
Put olive oil in a heavy-bottomed soup pot or Dutch oven over medium-high heat.
When oil is hot, add onion, celery and leek, stir to coat, and season with salt and pepper. Cook for 5 to 7 minutes, stirring, until onion has softened and just begun to brown. Add garlic, tomato paste, paprika, caraway, bay leaf and thyme, and cook for 1 minute, stirring.
Add potatoes, beets and carrots, 6 cups water and 1 1/2 teaspoons salt, or to taste. Bring to a boil, then reduce to a brisk simmer. Simmer with lid ajar for 20 minutes, or until potatoes, beets and carrots are fork tender.
Add kale and vinegar, and stir to distribute. Taste broth and adjust seasoning. Simmer until kale is done, about 8 minutes.
Meanwhile, make the horseradish cream: Put horseradish, lemon juice, salt and sugar in a small bowl. Let macerate 5 minutes, then stir in crème fraîche.
To serve, ladle into soup bowls, and garnish with chopped dill, parsley, tarragon and chives. Pass the horseradish cream at the table.
This locally inspired recipe is brought to you by Pam Walker. Pam is an avid home cook, writer, and local farm and food activist who is also a board member of the Santa Fe Farmers' Market Institute. Thank you, Pam, for helping inspire us to use locally sourced ingredients!