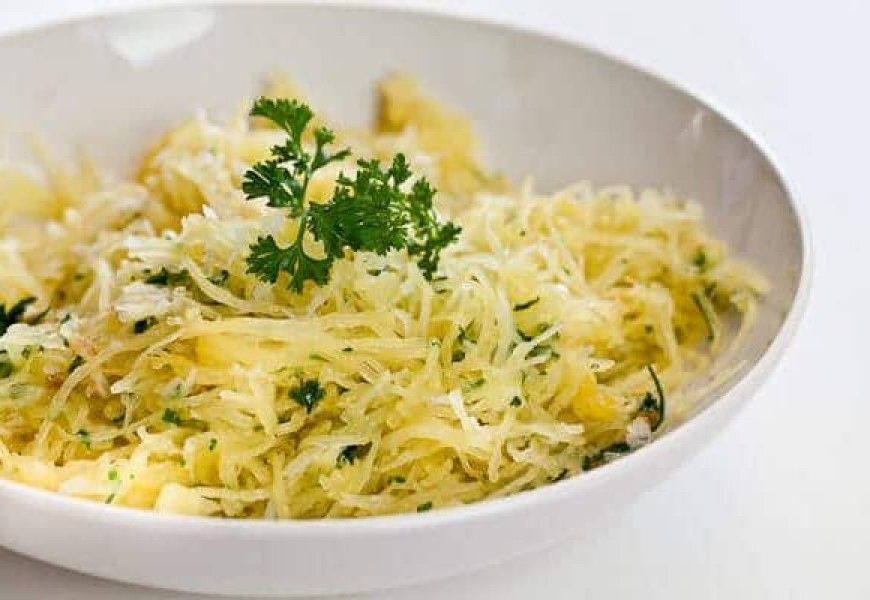 Image courtesy of Steamy Kitchen.
Thanks to Scott Moore, farmer at La Otra Banda, I have a beautiful spaghetti squash from this past early winter. Just as Scott told me, the squash has stored well in my cool dark pantry.
As much as I love cooking – and I cook just about every day – and as much as I love just about all foods, I've never cooked spaghetti squash. I searched for a simple recipe and found this one at Steamy Kitchen's website, posted by Jaden. Among its other ingredients are garlic, which, in short supply, is still available at the market. A great garlic clove substitute is garlic powder from Alex Pino's Revolution Farm. I'd never buy garlic powder at a grocery store or even at the co-op, but Alex's is seasonally made and pungent. I reach for it when I'm so short on energy or time that I don't want to peel and mince the cloves. It's good stuff!
To avoid the danger of cutting oneself when halving a winter squash, as I've done more than once, Jaden recommends piercing the squash in several spots and baking it whole at 375 degrees for about sixty minutes.
Yield: four servings as a side dish
1 small spaghetti squash about 3-4 pounds
2 tablespoons butter
2 cloves garlic finely minced
1/4 cup finely minced parsley or other fresh herb
1/2 teaspoon salt or to taste
1/4 cup shredded Parmesan cheese
Preheat oven to 375F. Pierce squash a few times with sharp paring knife (to let steam escape). Bake spaghetti squash for 60 minutes, or until a paring knife pierces easily through skin with little resistance. Let squash cool for 10 minutes.
Cut squash in half, lengthwise. Use a fork to remove and discard the seeds. Continue using fork to scrape the squash to get long, lovely strands. If the squash seem difficult to scrape, place squash halves cut side down, and bake for an additional 10 minutes.
To serve 4 people, you'll use about 4 cups of the spaghetti squash strands. Heat a large saute pan with the butter and the garlic over medium-low heat. When garlic becomes fragrant, add parsley, salt, and spaghetti squash strands.
Toss well, sprinkle in the Parmesan cheese and taste to see if you need additional salt. The spaghetti squash should have a slight crunch – but if you like it softer, cover the pan and cook 2 more minutes.
This locally inspired recipe is brought to you by Pam Walker. Pam is an avid home cook, writer, and local farm and food activist who is also a board member of the Santa Fe Farmers' Market Institute. Thank you, Pam, for helping inspire us to use locally sourced ingredients!