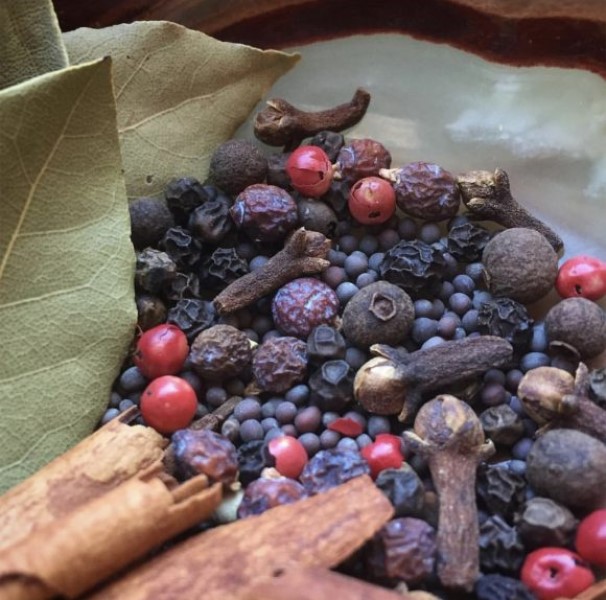 The Institute Program Director, Melissa Willis, has blog where she writes about her personal adventures in farming (evergrowingfarm.com) and she has a fantastic Instagram profile as an extension of that. She recently shared her favorite recipe for the seasonal Irish dish: Corned Beef.
I picked up a big ol' brisket from my friends at C4 Farms becasue St. Paddy's Day is right around the bend and I simply can't wait to get it into the pot with these gorgeous spices! If you're looking for a brining recipe, I've been using this one for several years now and it doesn't disappoint 💚
~3 lbs beef brisket
2 quarts water
1 cup Kosher Salt
½ cup packed Brown Sugar
12 whole Juniper Berries
8 whole Cloves
8 whole Allspice Berries
3 Bay Leaves
1 Cinnamon Stick (broken up)
1 teaspoon Peppercorns
1 teaspoon Mustard Seeds
Melissa's Brining Process
Bring all your spices to a boil in the 2 qts of water.
Let cool completely, then add your brisket to the brine, making sure the beef is completely covered by the liquid.
Cover and let your brisket marinate in the brine (in the fridge) for 10 to 14 days before cooking it up!
After 10 to 14 days, remove the beef from the brine and place in a pot just large enough to hold it.
Add onion, carrot, and celery and cover with water by 1-inch.
Set over high heat and bring to a boil.
Reduce the heat to low, cover, and gently simmer for 2 1/2 to 3 hours or until the meat is fork tender.
Remove from the pot and thinly slice across the grain.
This locally inspired recipe is brought to you by Pam Walker. Pam is an avid home cook, writer, and local farm and food activist who is also a board member of the Santa Fe Farmers' Market Institute. Thank you, Pam, for helping inspire us to use locally sourced ingredients!