Uncooked Tomato Sauce with Penne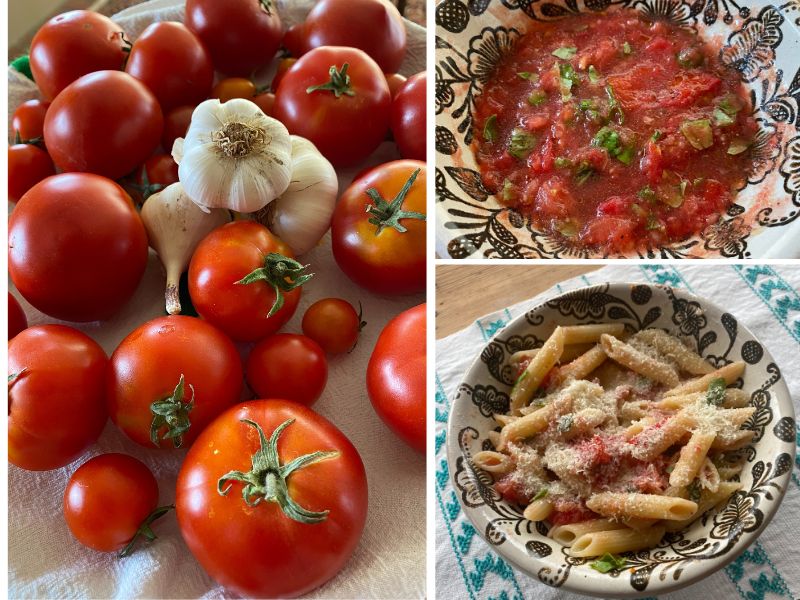 Tomatoes have just begun to appear at this season's market!  As usual, Malandro Farm is the first to bring them in, a moment I always eagerly await.  This past Saturday, I bought some beautiful, fully ripe ones and made my favorite uncooked tomato sauce right away.  Along with the first tomatoes, the season's first garlic is back, too. I bought some from El Bosque and El Guique, just in time to make this uncooked sauce.
Uncooked tomato sauce! What could be simpler?  I discovered this Pierre Franey recipe in 1979, when Franey's book 60-Minute Gourmet was published.  It has been a mainstay for me ever since.  My only modifications are that I usually mince the garlic cloves rather than incorporate them whole; tear the basil leaves instead of chopping them, to keep the edges from blackening; and omit the Fontina or Muenster and simply include Parmesan.
3 large, red ripe tomatoes, about 2 ½ pounds
4 large whole cloves garlic, peeled but left whole
1 small hot red or green chili, chopped, or use about ½ teaspoon or less red pepper flakes
½ cup coarsely chopped fresh basil
Salt and freshly ground pepper to taste
½ cup olive oil
1 pound penne or other tubular pasta
¼ pound Fontina or Muenster cheese
½ cup grated Pecorino or Parmesan
Wash and wipe the tomatoes. Remove the cores from the tomatoes. Chop the tomatoes. There should be about six cups.  Put them in a large bowl.
Add the garlic, shopped, chili, basil, salt, pepper, olive oil. Let stand at room temperature several hours. Or chill overnight. But let return to room temperature before serving.
Cook the penne according to package directions.
Meanwhile, grate or shred the Fontina, using the coarse blade.
When the pasta is cooked, drain it. Spoon off about ¼ cup of the surface oil from the tomatoes and add it. Add the Parmesan cheese and toss. Add half the tomato sauce and toss. Add half the remaining Fontina cheese and toss. Serve in soup bowls with remaining sauce spooned on top.
This locally inspired recipe is brought to you by Pam Walker. Pam is an avid home cook, writer, and local farm and food activist who is also a board member of the Santa Fe Farmers' Market Institute. Thank you, Pam, for helping inspire us to use locally sourced ingredients!