Roasted Asparagus with Crispy Leeks and Capers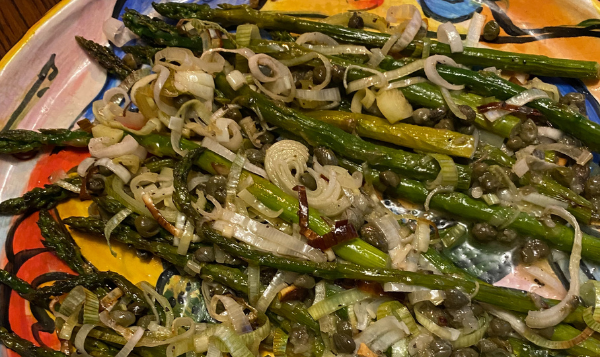 With an abundance of asparagus at the market, I've been feasting on it every week. Two weeks in a row, I used this Melissa Clark recipe from the NYT. It was so good the first time, I wanted more! I love the combination of flavors and textures, and the tang of the mustard, lemons, and capers is divine. I think I've discovered a new staple for asparagus season.
For the asparagus:
1 pound thick asparagus, ends trimmed
2 tablespoon extra-virgin olive oil
Kosher salt and black pepper
1 large leek, white and light green parts, halved lengthwise and thinly sliced
2 tablespoons drained capers
Lemon wedges, for serving
¼ cup parsley, leaves and tender stems, torn
For the Mustard Sauce:
2 teaspoons Dijon mustard
2 teaspoons drained capers, finely chopped
1 small garlic clove, finely grated or minced
3 tablespoons extra-virgin olive oil
Kosher salt and black pepper
Heat oven to 425 degrees. Put asparagus on a rimmed sheet pan and toss with 1 tablespoon oil and 1/2 teaspoon salt until well coated.
In a small bowl, stir together leeks, remaining 1 tablespoon oil, and a pinch each of salt and pepper. Sprinkle leeks on top of asparagus, then sprinkle with capers. Roast until asparagus are tender and golden brown, about 12 to 18 minutes.
While the asparagus stalks roast, make the mustard sauce: In a small bowl, whisk together mustard, capers and garlic. Slowly whisk in olive oil a few drops at a time to create a thick, emulsified dressing. Season with salt and pepper to taste.
Once asparagus stalks are out of the oven, squeeze a lemon wedge over it and sprinkle parsley on top. Serve with mustard sauce and more lemon wedges on the side.
This locally inspired recipe is brought to you by Pam Walker. Pam is an avid home cook, writer, and local farm and food activist who is also a board member of the Santa Fe Farmers' Market Institute. Thank you, Pam, for helping inspire us to use locally sourced ingredients!