Two Summer Salads for Right Now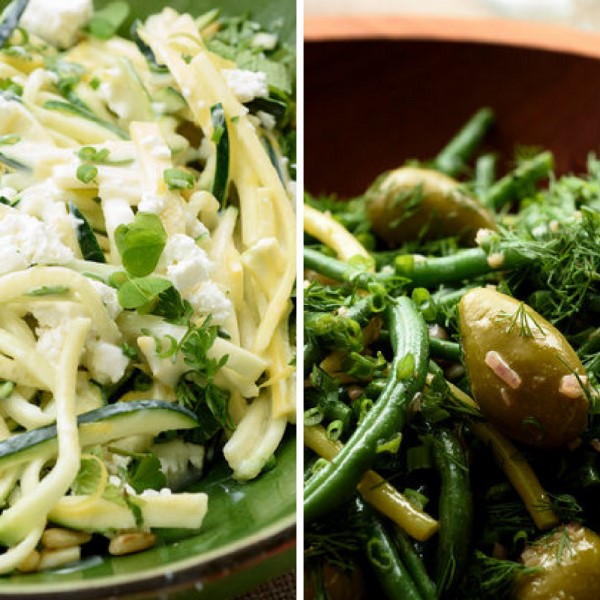 Images courtesy of The New York Times.
With so many green beans and yellow beans and purple beans coming into the the Market along with all kinds of squash, these two recipes from David Tanis for The New York Times are perfect for now. They don't take long to put together, and they deliver great textures, colors, and flavors.
Both recipes featured in: A Cool Solution For Hot Summer Nights.
Image courtesy of The New York Times.
This salad of julienned zucchini is dressed in yogurt and tossed with a generous amount of lemon juice and zest. Use as many bright herbs as possible, or a single herb if you prefer, and chop them at the last minute.
Yield: four to six servings
1 ½ pounds small zucchini or summer squash, preferably a mix of colors
Salt and pepper
1 tablespoon grated lemon zest
3 tablespoons lemon juice
1 cup plain whole-milk yogurt
1 tablespoon thinly sliced chives
2 tablespoons roughly chopped chervil
2 tablespoons roughly chopped mint
2 tablespoons roughly chopped sorrel
4 ounces feta cheese, crumbled, for garnish
3 tablespoons pine nuts, lightly toasted, for garnish
Top and tail the zucchini. Julienne with a large knife, mandoline, food processor or spiralizer.
Transfer zucchini to a large bowl. Season generously with salt and pepper. Add lemon zest and juice and toss well. Set aside for 10 minutes.
Add yogurt and toss to coat well. Taste and adjust seasoning. Add chopped herbs and mix gently. Garnish with feta and pine nuts to serve.
Green Beans With Herbs and Olives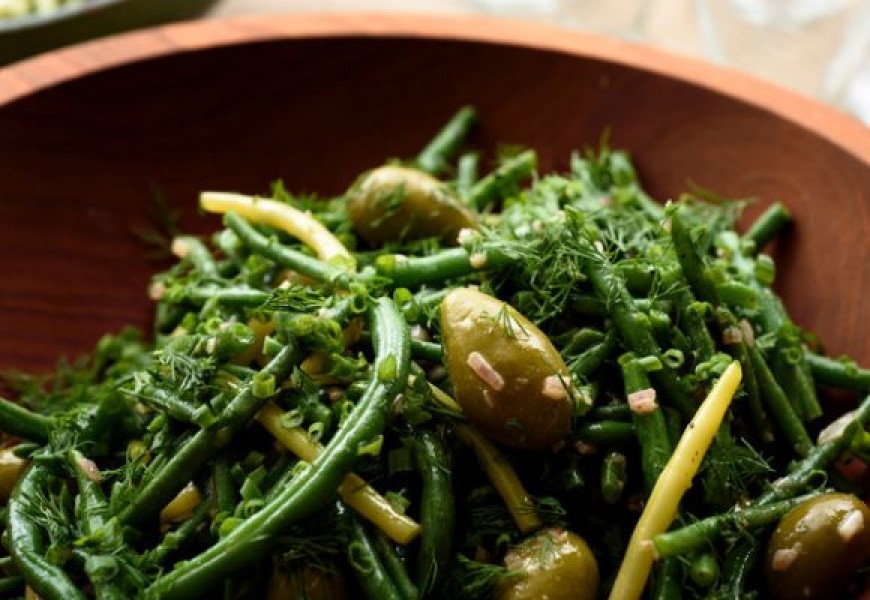 Image courtesy of The New York Times.
A salad of freshly picked green beans is a true treat. Whatever the color — green, purple or pale yellow — choose smaller beans, which are naturally more tender.
Yield: four to six servings
Salt and pepper
1 ½ to 2 pounds small green beans, or a mixture of different colors, topped and tailed
2 small garlic cloves, minced
1 small shallot, diced
2 tablespoons red wine vinegar or sherry vinegar
2 teaspoons Dijon mustard
4 tablespoons extra-virgin olive oil
1 cup good-quality pitted green olives, halved
2 tablespoons chopped dill
1 tablespoon chopped chives
Bring a large saucepan of well-salted water to a boil. Add beans and cook for 2 minutes, until firm-tender. Drain and rinse beans with cool water, then blot with a kitchen towel. Set aside.
Make the vinaigrette: Put garlic, shallot and vinegar in a small bowl. Add a good pinch of salt and a smaller pinch of pepper; let macerate for 5 to 10 minutes. Add mustard and whisk to dissolve, then whisk in olive oil.
Assemble the salad: Put cooked beans in a serving bowl and season lightly with salt and pepper. Add olives and half the vinaigrette. Toss well, then taste and adjust seasoning. Sprinkle salad with dill and chives and serve.
This locally inspired recipe is brought to you by Pam Walker. Pam is an avid home cook, writer, and local farm and food activist who is also a board member of the Santa Fe Farmers' Market Institute. Thank you, Pam, for helping inspire us to use locally sourced ingredients!