Turkey, Green Chile, Potato, Onion, and Garlic Hash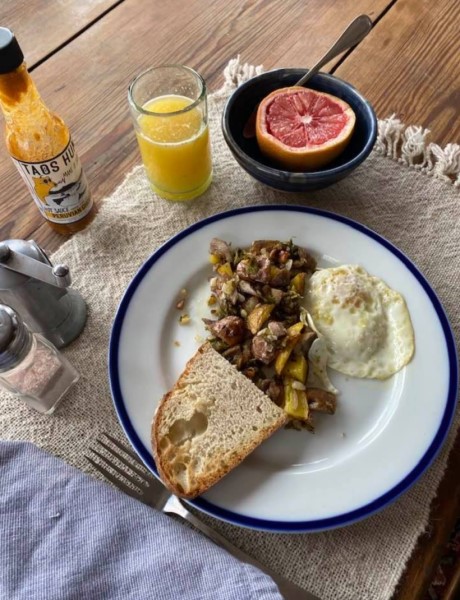 For two mornings after Thanksgiving, I enjoyed turkey hash for breakfast.
The first morning, I ate the hash with sourdough toast and an egg over easy. The second morning that I made hash, I ate it the same way except that I added salsa macha on top. The salsa added to the robustness of the flavor. Any salsa would do.
In addition to chunks of light and dark turkey, my ingredients included roasted green chiles, which I keep on hand in the freezer, potatoes I'd baked a couple of days before, garlic, and white onion.
I chopped and chunked everything in the proportions I felt like eating and sautéed it in olive oil in a cast iron skillet, starting with onions and garlic, then adding chile and potatoes and turkey.
This locally inspired recipe is brought to you by Pam Walker. Pam is an avid home cook, writer, and local farm and food activist who is also a board member of the Santa Fe Farmers' Market Institute. Thank you, Pam, for helping inspire us to use locally sourced ingredients!