Sweet Potato and Egg Tacos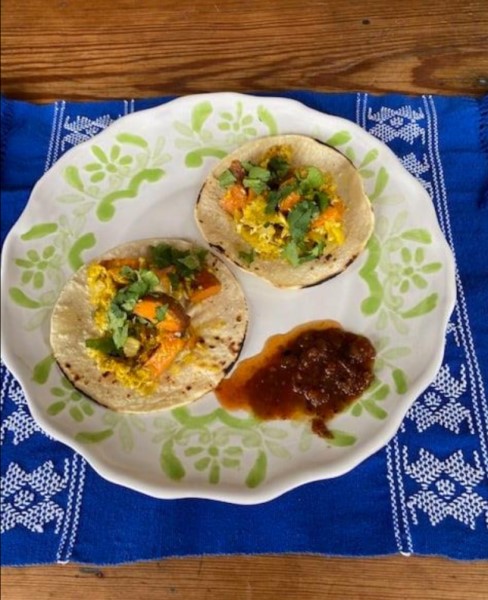 Sweet potatoes have reappeared at the market!
I bought a couple of small ones and baked them and cut them into small chunks, leaving on some of the peel.
I diced a small white onion and minced a clove of garlic and sautéed them in a cast iron skillet on low heat. At the same time, I beat a couple of eggs together in a small bowl.
Next, I added some sweet potato chunks to the garlic and onion and then added the beaten eggs and scrambled it all together on low heat. I emphasize the low heat and the slowness in scrambling – this makes the eggs turn out moist and tasty, not dry and tasteless.
Finally, I spooned the mixture into two steamed corn tortillas and topped it with minced cilantro and salsa. I like it for breakfast, lunch, or supper.
This locally inspired recipe is brought to you by Pam Walker. Pam is an avid home cook, writer, and local farm and food activist who is also a board member of the Santa Fe Farmers' Market Institute. Thank you, Pam, for helping inspire us to use locally sourced ingredients!