Turkey and wild rice and brown rice casserole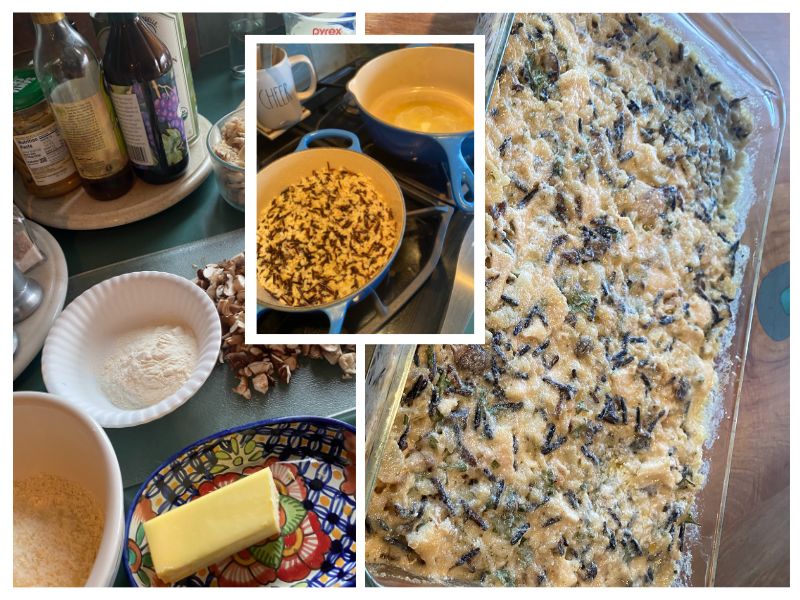 What to do with leftover turkey? One of my favorite dishes of many years is to make it into a casserole with wild rice, brown rice, and mushrooms. I'm guided by a recipe I found a long time ago in the New York Times Heritage Cookbook, edited by Jean Hewitt, titled "Chicken with Wild Rice Casserole." It calls only for wild rice, but I usually use half wild rice and half brown rice.
I buy chicken all year from Lotus Farms and their turkey at Thanksgiving. Shallots and onions and mushrooms are almost always plentiful at the market, and parsley a great deal of the time. Food I can't buy at the market, I buy at La Montanita Co-op.
1 cup uncooked wild rice (or half cup wild rice and half cup brown rice)
3 tablespoons finely chopped shallots or one-half cup chopped onion
4 tablespoons butter
4 tablespoons flour
1 ½ cups chicken broth
1 ½ cups light cream
¼ teaspoon nutmeg  (I grate part of a whole nutmeg.)
Salt and freshly ground pepper to taste
¼ pound mushrooms, thinly sliced
3 cups diced cooked chicken (or turkey)
2 tablespoons finely chopped parsley
2 tablespoons freshly grated Parmesan cheese
 Preheat the oven to 350 degrees
Cook the rice until tender according to any standard recipe. Set aside
Cook the shallots or onion in two tablespoons of the butter, but do not brown. Sprinkle with the flour and stir until blended. Add the broth and cream, stirring rapidly with a wire whisk. When blended and smooth, simmer, stirring, about five minutes. Season with the nutmeg, salt, and pepper.
Sauté the mushrooms in the remaining butter and add to sauce. Add the rice, chicken, and parsley. Spoon mixture into a two-quart casserole and sprinkle with the cheese. Bake twenty-five to thirty minutes.
This locally inspired recipe is brought to you by Pam Walker. Pam is an avid home cook, writer, and local farm and food activist who is also a board member of the Santa Fe Farmers' Market Institute. Thank you, Pam, for helping inspire us to use locally sourced ingredients!