Cod Stew with Fennel, Olives, and Orange Zest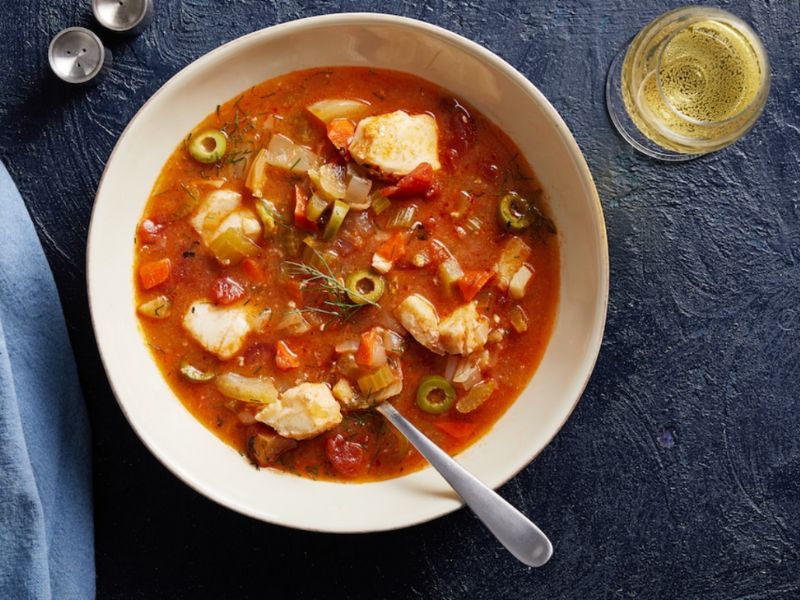 I love seafood and, having lived most of my life in Houston, sorely miss a constant supply of seafood fresh from the Gulf of Mexico. When this recipe for cod stew (by nutritionist and cookbook author Ellie Krieger and provided by G. Daniela Galarza for The Washington Post) appeared in my email, I was in San Diego and jumped at the chance to make it with fresh fish. Turns out that it's very simple to put together, and delivers lots of flavor and contrasting flavors and textures.
Except for cod, orange, and green olives, most of the ingredients are available in the market now – fennel, onion, carrot, celery, garlic. For a more market-centered stew, I think chicken would be an excellent substitute for cod.
This recipe serves four to five people.
1 medium fennel bulb, preferably with stalks and fronds

1 navel orange,

well scrubbed

2 tablespoons extra-virgin olive oil

1 medium onion (about 5 ounces), diced

1 medium carrot, scrubbed well and diced

2 ribs celery, diced

3 cloves garlic, minced or finely grated

1 tablespoon tomato paste

One 14.5-ounce can no-salt-added diced tomatoes, plus the juices

3 cups fish stock

1 bay leaf

1/4 teaspoon fine salt

1/4 teaspoon crushed red pepper flakes

1/3 cup pitted green olives, sliced

1 1/2 pounds skinless cod fillets, cut into 1-inch chunk

s
Remove the stalks and fronds from the fennel bulb, reserving some of the fronds for garnish. Save the stalks for making stock or discard them. Remove and discard the core and the tough outer layer of the fennel bulb. Coarsely chop the rest of the fennel.

Use a vegetable peeler to remove 2 strips of zest from the orange, measuring 1-by-3 inches, being careful not to include any white pith. Then squeeze half the orange to yield 3 tablespoons of juice, reserving it to add later.

In a large, heavy pot over medium heat, heat the oil until it shimmers. Add the onion, carrot and celery to the pan and stir to coat; cook until they have softened, about 5 minutes. Add the chopped fennel bulb and the garlic; cook for 30 seconds, then stir in the tomato paste.

Add the tomatoes with their juices, the fish stock, bay leaf, strips of orange zest, salt and crushed red pepper flakes. Once the mixture begins to boil, reduce the heat to medium-low, cover and cook until the fennel is tender, about 25 minutes. Discard the strips of orange zest and the bay leaf.

(At this point, the stew base can be cooled, transferred to a covered container and refrigerated a day in advance, or frozen.)
When you are ready to serve, return the mixture to a boil over medium heat, then add the olives and the fish. Once the mixture begins to bubble at the edges, reduce the heat to medium-low, cover and cook for about 5 minutes, or until the fish is opaque and flakes easily. Stir in the reserved orange juice and remove from the heat.
Serve hot, garnished with some reserved fennel fronds.
This locally inspired recipe is brought to you by Pam Walker. Pam is an avid home cook, writer, and local farm and food activist who is also a board member of the Santa Fe Farmers' Market Institute. Thank you, Pam, for helping inspire us to use locally sourced ingredients!