Summer Squash and Green Chiles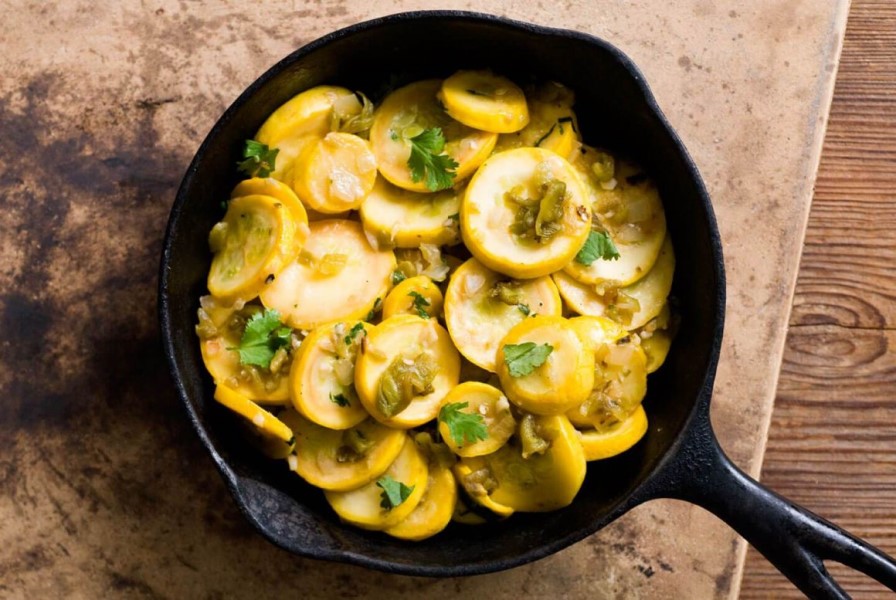 Image courtesy of Lisa Fain, Homesick Texan
Summer squash! Chiles! Onions! Garlic! Cilantro! These abound at the market now, and this recipe from Lisa Fain's Homesick Texan blog is timely. And, thanks to a number of chile-roasters at the Market, roasting the chiles yourself is optional.
4 Hatch or Anaheim chiles
2 tablespoons unsalted butter
½ medium yellow onion, diced
2 cloves garlic, minced
2 pounds summer squash, sliced into 1/4" rounds
¼ chopped cilantro
1 teaspoon kosher salt
1/2 teaspoon black pepper
1 tablespoon freshly squeezed lime juice
First you'll need to roast the chiles. Place the chiles under the broiler until blackened, about 5 minutes per side. Place the chiles in a paper sack or plastic food-storage bag, close it tight and let the chiles steam for 20 minutes. Take the chiles out of the bag and gently rub off the skin. Remove the stem and seeds and dice the chiles.
In a large skillet, heat the butter on low heat. Add the onion and while stirring occasionally, cook until the onions are softened and just beginning to darken, about 7-10 minutes. Stir in the garlic and cook for 30 more seconds.
Add to the skillet the squash, salt, and pepper and while stirring occasionally, cook until squash is softened though still a bit crisp, about 7-10 minutes Season with salt and pepper and then stir in the diced green chiles and cilantro. Taste and add more salt and pepper if needed.
Finish with a squirt of lime juice and serve warm.
This locally inspired recipe is brought to you by Pam Walker. Pam is an avid home cook, writer, and local farm and food activist who is also a board member of the Santa Fe Farmers' Market Institute. Thank you, Pam, for helping inspire us to use locally sourced ingredients!