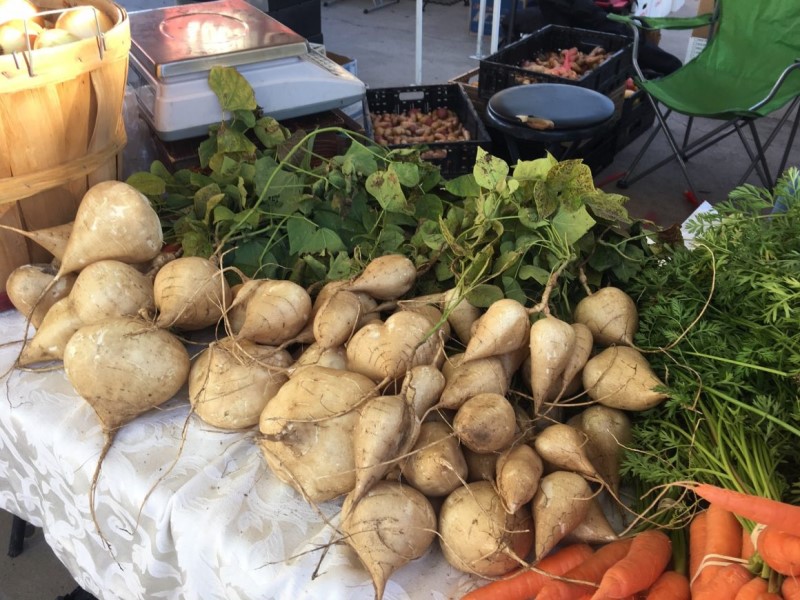 Fresh jicama (and I mean fresh from the ground) is very hard to come by. But luckily for Market shoppers, Orozco Farm of El Guique brought jicama in September and October.
The simplest way to prepare and eat jicama is to peel it, slice it, squeeze a little lime juice on the slices, sprinkle with chile powder, and eat one slice after another. Another way that's almost as simple is to toss jicama slices with slices of oranges and cucumbers.
Rick Bayless, famed for his Chicago restaurants Topolobampo, Frontera Grill, and Xoco, offers this jicama salad, a version of which appears in his cookbook Mexican Everyday. Bayless offers a tip for peeling jicama: "peel the jicama with a knife rather than a vegetable peeler – you'll go a little deeper, cutting away the tough layer just below the thin skin."
3/4 cup vegetable oil, olive oil or a mixture of the two
1/3 cup fresh lime juice
1/2 teaspoon grated lime zest (colored rind only)
1/2 cup (packed) cilantro, thick lower stems broken off
Fresh hot green chiles to taste (I like 2 serranos or 1 jalapeño), stemmed and roughly chopped (optional)
1 scant teaspoon salt
1 medium (about 1 pound) firm, unblemished jícama, peeled and cut into sticks (1/4-inch is a good width, 2 inches a good length)
1 medium bunch watercress, large lower stems broken off
4 good-size romaine leaves, cut crosswise in ¼-inch slices
Combine all dressing ingredients (first 6) in a blender jar. Blend until smooth. Pour into a jar and secure lid.
In a large bowl, combine the jícama, watercress (you should have about 2 cups) and romaine (about 2 cups).
Shake the dressing to combine thoroughly, then drizzle on about ¼ cup (Cover and refrigerate remaining dressing for another salad.)
Toss to combine. Taste and season with a little more salt if you think necessary. Serve right away.
This locally inspired recipe is brought to you by Pam Walker. Pam is an avid home cook, writer, and local farm and food activist who is also a board member of the Santa Fe Farmers' Market Institute. Thank you, Pam, for helping inspire us to use locally sourced ingredients!