Garbanzo, Tomato, and Feta Salad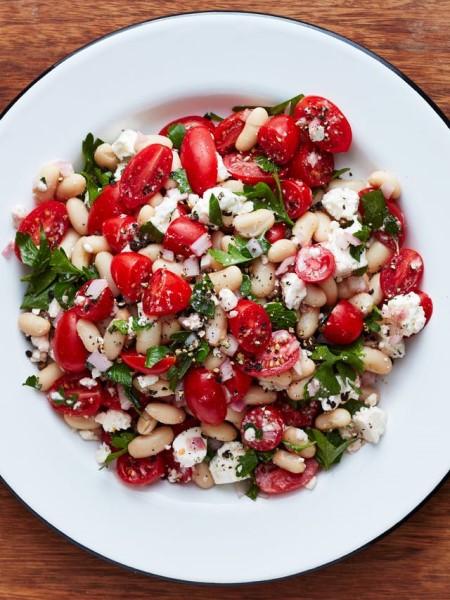 The abundance and varieties of tomatoes at the Market these late summer days are a tomato lover's delight. I can't get enough of them. Feta cheese is available pretty much year round from Old Windmill Farms and from Camino de Paz. Cilantro, parsley, and mint are also currently appearing at the Market, beautiful bunches of them. Onions are plentiful, too. And now that the monsoons have abated and the high temperatures are rising higher than during the rains, this salad from heirloom bean purveyor Rancho Gordo is appealing. Garbanzos aren't available at the market, but a number of other suitable varieties are.
4 medium or 2 large, ripe tomatoes, roughly chopped, or 1 pint cherry or grape tomatoes, halved
3 tablespoons olive oil, plus more for drizzling
Rancho Gordo Pineapple Vinegar or white wine vinegar, to taste
Flaky salt and freshly ground pepper
2 cups cooked Rancho Gordo Garbanzo beans, drained
2 ounces French sheep's milk feta cheese, crumbled (about 1/2 cup)
1/4 of an onion, finely chopped
1/4 cup minced fresh cilantro, flat-leaf parsley, or mint
In a serving bowl, combine the tomatoes, olive oil, vinegar, and salt and pepper. Let sit for at least 20 minutes.
Add the Garbanzo beans, feta, onion, and cilantro to the tomatoes and mix gently. Season with additional salt and pepper, drizzle with additional olive oil, and serve.
This locally inspired recipe is brought to you by Pam Walker. Pam is an avid home cook, writer, and local farm and food activist who is also a board member of the Santa Fe Farmers' Market Institute. Thank you, Pam, for helping inspire us to use locally sourced ingredients!