Stewed Tomatoes and Eggplant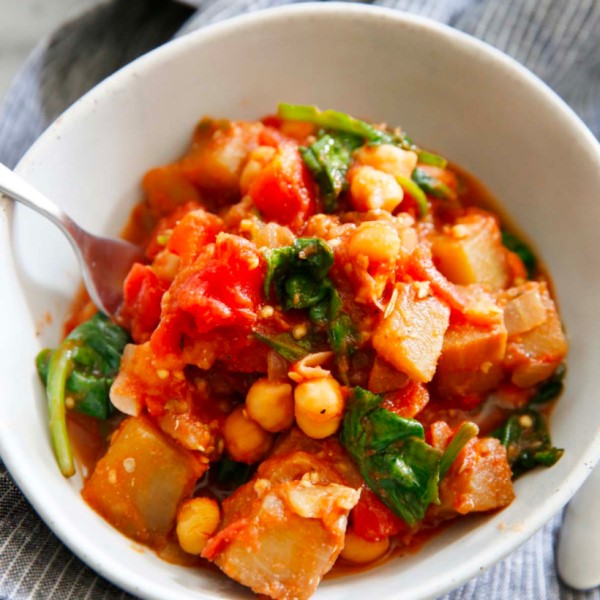 This Market Fresh Cooking recipe is complements of the Farmers' Market weekly CSA recipe.
This recipe is from Joanne Weir in You Say Tomato, and is one of Kim Martin's, from Growing Opportunities, favorites for her juicy heirlooms. While eggplant isn't exactly in season locally, fresh local basil and tomatoes are available at Farmers' Market.
2 eggplants (about 2 pounds), cut into 1 inch cubes
Course salt
¼ cup olive oil
4 garlic cloves, thinly sliced
4 medium ripe tomatoes, peeled seeded and chopped.
Fresh ground black pepper
20 fresh basil leaves, torn into small pieces
Place the eggplant in a colander and sprinkle with salt. Let sit for 30 minutes.
Preheat the oven to 400 degrees F.
Rinse the eggplant under cold water and pat dry with paper towels. Toss the eggplant with 3 tablespoons of olive oil and place in a single layer on a baking sheet. Bake until golden and tender, 15-20 minutes. Remove from the oven and set aside.
Heat the remaining 1 tablespoon olive oil in a large frying pan over medium heat. Add the garlic and cook stirring for 1 minute. Do not let the garlic brown. Add the tomatoes and simmer until thickened and reduced to a sauce, 20-20 minutes. Add the eggplant and season to taste with salt and pepper.
To serve, toss the stew with basil leaves and place in a serving bowl. Garnish with additional basil.
This locally inspired recipe is brought to you by Pam Walker. Pam is an avid home cook, writer, and local farm and food activist who is also a board member of the Santa Fe Farmers' Market Institute. Thank you, Pam, for helping inspire us to use locally sourced ingredients!