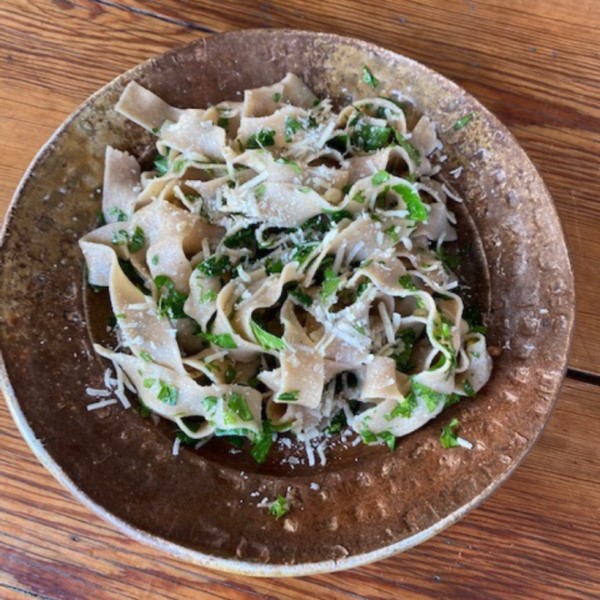 Parsley is coming back into the market as spring unfolds. I love parsley, and I love pasta, and enjoy putting them together with garlic and olive oil and, sometimes, also a little butter.
This recipe by Robert Farrar Capon from The New York Times is a useful guide. I recommend using only a little butter or none. And instead of spaghetti or vermicelli, I recommend pasta from Vivac, available in Vivac's storefront in the market pavilion every market day, handmade in Dixon.
Yield: four pasta-course servings
½ to ¾ pound spaghettini or vermicelli
1 cup (2 sticks) butter
1 clove garlic, minced
1 cup chopped fresh parsley, preferably Italian
½ cup chopped grated Parmesan cheese, or as desired
Freshly ground black pepper as desired
Drop the pasta into boiling water and cook according to package directions.
While the pasta is cooking, melt the butter in a saucepan, stir in the garlic and simmer until the butter turns a bit darker. Combine the parsley, Parmesan and pepper, mix well and reserve.
When the pasta is done, drain it and put it into a bowl. Pour on the butter and toss lightly to mix. Add the parsley-Parmesan-pepper mixture and toss to mix again. Serve immediately.
This locally inspired recipe is brought to you by Pam Walker. Pam is an avid home cook, writer, and local farm and food activist who is also a board member of the Santa Fe Farmers' Market Institute. Thank you, Pam, for helping inspire us to use locally sourced ingredients!