Spinach, fermented beets, and feta salad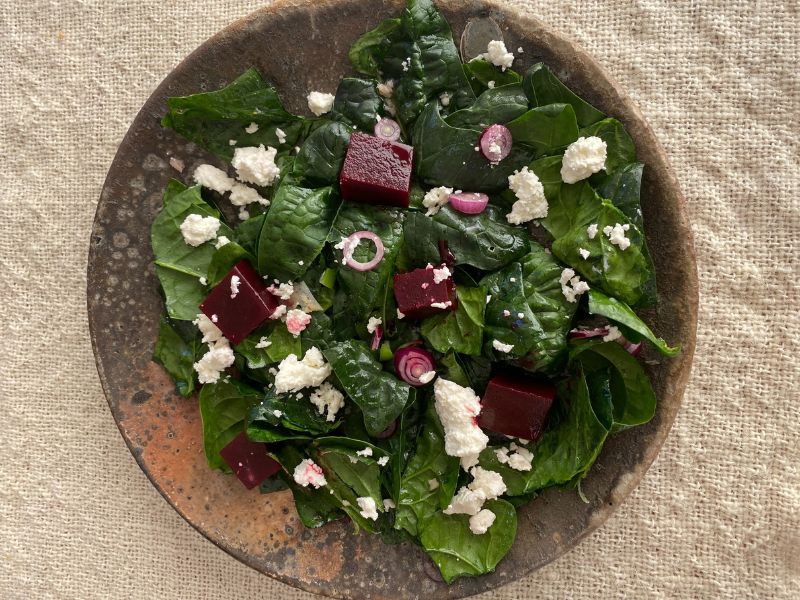 Spinach is increasingly abundant at the market these days from a number of farmers. This past Saturday I bought a bag from Malandro Farm and also bought feta from Camino de Paz for one of my favorite salads — fresh spinach with fermented beets, feta, and thin slivers of red onion.  
To prepare the spinach, I gently tear the stems from larger leaves, basically tearing the leaves in half. If they're really large leaves, I tear them into smaller pieces. (I'm not one of those people who likes cutting into my salad with a table knife!). I place the stemmed spinach in a salad bowl.
I keep fermented beets on hand. Currently, I have a jar of cubed ones from a vendor at the Taos Farmers' Market, and I add as many or few as I want at the time to the spinach leaves.
To prepare the feta, I take chunks and crumble them a bit, but not into really small crumbles, and scatter them on the spinach leaves.
For the red onion, I use small onions from the farmers' market, as small as I can get. I peel them and slice them as thinly as possible and add to the salad mix.
My favorite dressing for this salad is olive oil, at least one garlic clove from market garlic, unpasteurized cider vinegar made by Mary Campbell of Arco Iris Farm in Dixon, which I buy at the Taos Farmers' Market and keep on hand. I add salt and freshly ground pepper to taste, and toss the salad with it.
The flavors and textures make for great eating. And the colors, combined with the textures, are a feast for the eyes.