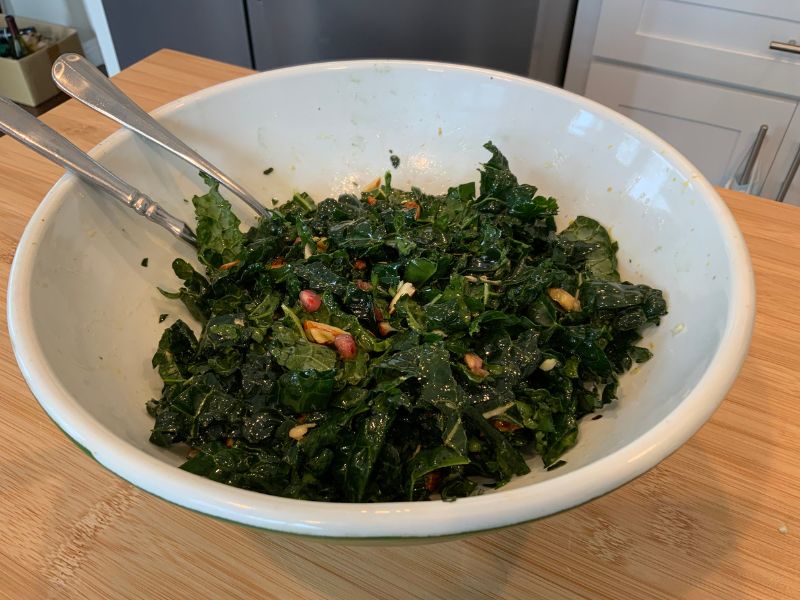 Winter is a time of glorious greens at the market.  This recipe by Julia Moskin in The New York Times is a really satisfying way to enjoy kale, especially Lacinato, or dinosaur, kale, my favorite. It would also be a good way to make a spinach salad. And pecans would do as well as almonds. With pomegranates in season and available at the co-op, I added pomegranate seeds to the mix. Their quiet sweetness perfectly complements the savory qualities of kale or spinach. I love Parmesan cheese, and incorporated a plentiful amount.
Yield: 8 to 12 servings
2 cups sliced almonds

⅓ cup freshly squeezed lemon juice (from 2 to 4 lemons)

Kosher salt

1½ cups extra-virgin olive oil

4 cloves garlic, crushed with the flat side of a knife, peeled and left whole

10 to 12ounces washed and dried kale leaves, thick stems removed (weight after trimming)

1½ cups freshly grated Parmesan (optional)
In a toaster oven or skillet, toast almonds until golden brown and fragrant. Set aside to cool.
In a bowl, combine lemon juice and 1 heaping teaspoon salt. Slowly whisk in olive oil. Add garlic cloves and set aside to steep.
Working in batches, cut the kale into thin ribbons: gather a large handful of leaves, bunch together tightly, and use the other hand to slice into ¼-inch-thick pieces. This need not be done very precisely or neatly; the idea is to end up with a kind of slaw. (Recipe can be made up to this point 1 day ahead. Keep kale and dressing refrigerated separately.)
Place chopped kale in a very large bowl. Sprinkle surface with almonds and then with cheese, if using. Remove and discard garlic cloves from dressing. Pour half the dressing over the salad and toss. Taste for dressing and salt and add more as needed, tossing to coat thoroughly. Serve within 1 hour.
This locally inspired recipe is brought to you by Pam Walker. Pam is an avid home cook, writer, and local farm and food activist who is also a board member of the Santa Fe Farmers' Market Institute. Thank you, Pam, for helping inspire us to use locally sourced ingredients!