Ribollita, also known as bean, vegetable, and bread stew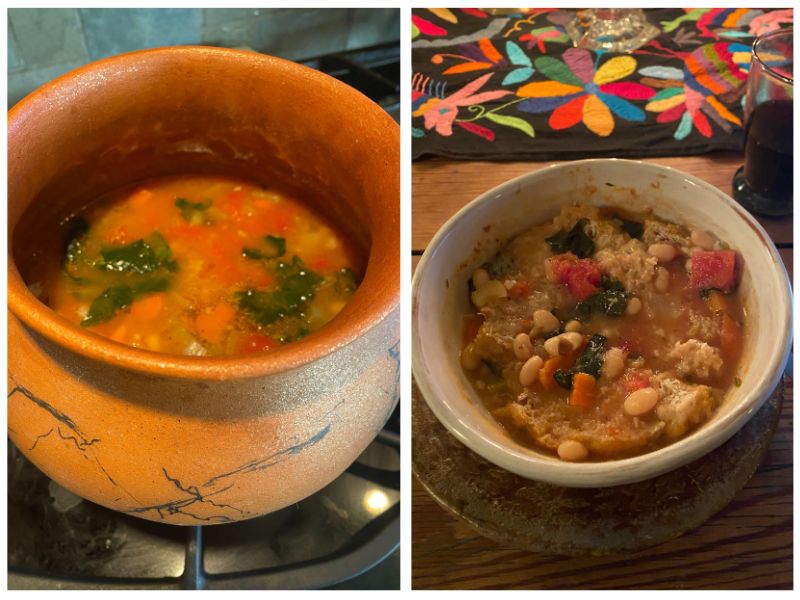 Many varieties of dried beans are available at our farmers' market throughout the year. I keep a supply in my pantry, supplemented by beans I purchase from Rancho Gordo, a Santa Rosa business that's a great source of heirloom beans.
Beans are inexpensive, nutritious, and delicious. Just taking in their aroma during the hours of simmering them is a great pleasure. This bean and vegetable and bread stew by Mark Bittman for the New York Times gave me a good way to use some dried alubia blanca, a Spanish type of white bean that I had on hand from Rancho Gordo instead of cannellini. The alubia blanca is smaller and firmer than cannellini and holds up well to long, slow simmering. When the beans were tender, I made a stew of them with the other ingredients except that I substituted spinach from the market for kale, which I lacked.
Like most soups and stews, this one tastes even better the day after it's made – a perfect leftover!
Yield: 4 servings

5 tablespoons olive oil

1 small onion, chopped
1 carrot, chopped
1 celery stalk, chopped
1 tablespoon minced garlic
Salt and ground black pepper
2

cups cooked or canned cannellini beans

115-ounce can whole peeled tomatoes
4

cups vegetable stock or water

1

fresh rosemary sprig

1 fresh thyme sprig
1 pound chopped kale or escarole
4 large, thick slices whole-grain bread, toasted
1 small red onion, thinly sliced

½ cup freshly grated Parmesan
Put 2 tablespoons of the oil in a large pot over medium heat. When it's hot, add onion, carrot, celery and garlic; sprinkle with salt and pepper and cook, stirring occasionally, until vegetables are soft, 5 to 10 minutes.

Heat the oven to 500 degrees. Drain the beans; if they're canned, rinse them as well. Add them to the pot along with tomatoes and their juices and stock, rosemary and thyme. Bring to a boil, then reduce heat so the soup bubbles steadily; cover and cook, stirring once or twice to break up the tomatoes, until the flavors meld, 15 to 20 minutes.
Fish out and discard rosemary and thyme stems, if you like, and stir in kale. Taste and adjust seasoning. Lay bread slices on top of the stew so they cover the top and overlap as little as possible. Scatter red onion slices over the top, drizzle with the remaining 3 tablespoons oil and sprinkle with Parmesan.
Put the pot in the oven and bake until the bread, onions and cheese are browned and crisp, 10 to 15 minutes. (If your pot fits under the broiler, you can also brown the top there.) Divide the soup and bread among 4 bowls and serve.
This locally inspired recipe is brought to you by Pam Walker. Pam is an avid home cook, writer, and local farm and food activist who is also a board member of the Santa Fe Farmers' Market Institute. Thank you, Pam, for helping inspire us to use locally sourced ingredients!