2017 Farmer All-Star: Special Honors, Deborah Madison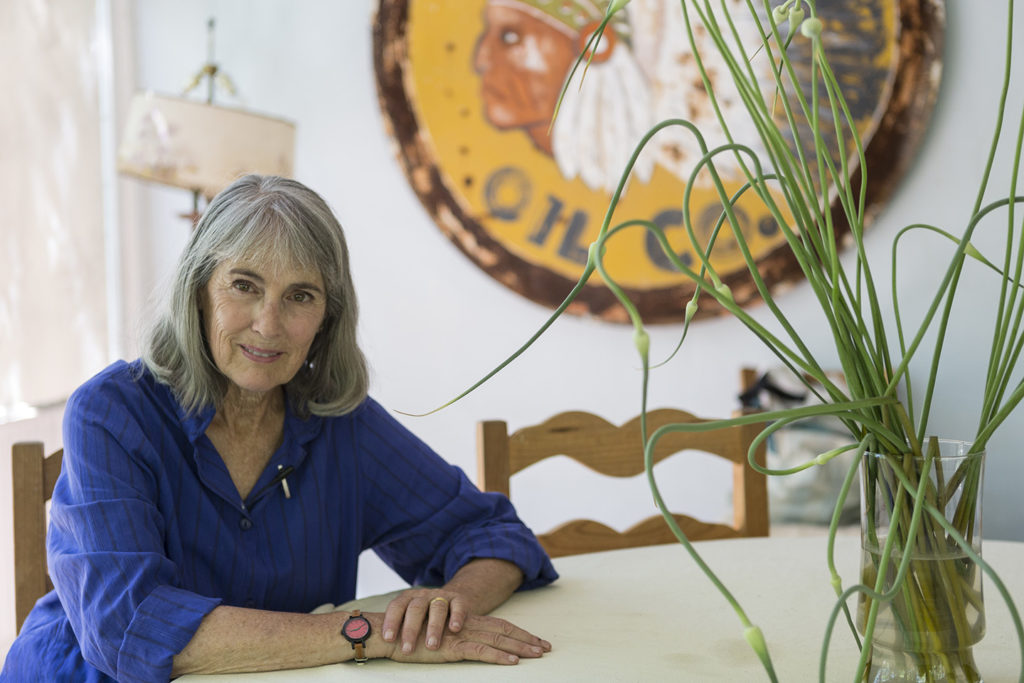 Deborah Madison is a chef, writer, cooking teacher and consultant, and home gardener who has been in the food world for over 40 years, with 27 of those spent in New Mexico. Her interests lay with issues of biodiversity, seasonal and local eating, farmers markets, and small-to-mid-scale farmers and ranchers. Currently, she volunteers with Southwest Grassfed Livestock Alliance and Slow Food.
She grew up first on a dairy farm in upstate New York, then in a walnut orchard in Davis, California. "Those experiences informed my cooking and my interest in plants." She first put her passion for cooking into motion at the San Francisco Zen Center, where she was a student for eighteen years and held a host of kitchen positions, including head cook at Tassajara and private cook for the abbot and his guests. She started working at Chez Panisse in 1977, and in 1979, she opened Greens Restaurant – one of the earliest Bay Area restaurants to have a farm-driven menu. She then cooked for the director of the American Academy in Rome, wrote a cookbook, and then wrote another one, and then twelve more. Her most recent came out this year – In My Kitchen.
In 1990, after spending time in Santa Fe and working with Pam Roy, Deborah moved to Santa Fe because of the Santa Fe Farmers' Market. "I'd been living in Flagstaff and there's no farmer's market. It was really hard to grow anything. I thought 'I have to live where there's agriculture.'" The day after moving to Santa Fe, she began managing the Market for a few years until she opened Café Escalera. "Managing the market was the best thing for me. I met the farmers and they're so wonderful. It was such an incredible introduction to New Mexico."
It's important for Market customers to have relationships with the farmers. "It's enriching. And, you have a chance to learn about where your food comes from, what it takes to get it to you. I think that we, as customers, don't always have a good understanding of what it takes to farm. Knowing your farmer is one way to be exposed to that."
And, Deborah believes that "if we're really going to be sustainable, we're going to have to get rid of this idea that we can have everything all the time. We can't. It comes from long distances, has to be cared for, and has to be refrigerated. It's never as good. My range of foods that I eat is much smaller now than when I lived in the Bay area, but I don't find it hard to do without. We are going to have to learn to do without huge variety if we are going to be sustainable."
During the Market's peak summer and fall seasons, there happens to be a lot of variety. Deborah tries to spread out her shopping among all of the vendors, and she makes note of what each vendor excels at. "Ric Gaudet has been a long-time good friend of mine. I love his food and I wish he grew more widely because I think he's a really good farmer." She loves Jesus Guzman's beans, the Vigil's because they grow costata romanesco (a type of zucchini), Monta Vista Organics' violina rugosa (a type of butternut), Romero Farms' La Ratte potatoes, Bodhi Farms' beautiful herbs, the high-quality meats brought to Market by local ranchers, and the list goes on. "Once the summer really gets going and everything comes in, I try to go everywhere. What's not to like about everything at the Farmers' Market?!"