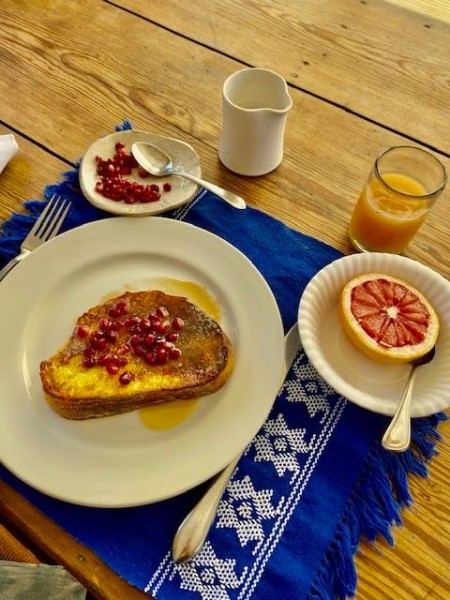 French toast is one of my favorite weekend breakfasts. It's simple to make and yet is a treat, too. I like to eat it with butter, warm maple syrup, and seasonal fruit. Lately, I've enjoyed it with red grapefruit from the Rio Grande Valley of Texas and with New Mexico pomegranate seeds I bought at La Montanita Co-op.
The first thing I do is put some maple syrup in a small, heat-proof pitcher and set it in a small saucepan of water, which I bring to a simmer and let the syrup warm.
Next, for the batter, I use a dinner fork to beat an egg with a little milk or half and half in a shallow bowl or pie plate. (If you're serving more than one person, you'll need more than one egg and a greater amount of milk or half and half.) When the egg and milk are thoroughly beaten, I put in a slice or two of sourdough into the batter, turning the slices a time or two to absorb as much batter as possible.
While the slices are soaking up the batter, I put a few tablespoons of butter into a slowly heating cast iron skillet. I let the butter reach a medium or medium-high heat — but not get so hot that it smokes – and put the battered slices in the skillet and toast them to a golden brown on each side, turning once. When golden, I place the slices on paper towels to drain excess butter for just a few seconds. Finally, I put the slices on my plate, add a pat or two of butter on top, and drizzle a little warm maple syrup over the toast and butter
This locally inspired recipe is brought to you by Pam Walker. Pam is an avid home cook, writer, and local farm and food activist who is also a board member of the Santa Fe Farmers' Market Institute. Thank you, Pam, for helping inspire us to use locally sourced ingredients!