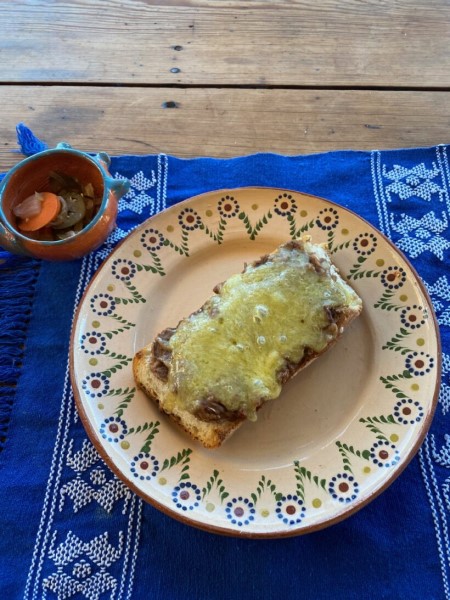 I love molletes, a simple Mexican open-faced sandwich that's good for any meal. The simplest version is a bolillo, a Mexican roll similar to a baguette, slathered with refried beans, usually pinto or black, topped with cheese, and broiled just until the cheese melts.
So easy, so delicious.
You can modify this basic model in many ways. I recently made a mollete with a long slice of a Cloud Cliff Bakery sourdough loaf – nice and dense and tangy, much more so than a bolillo. I refried some pintos I had in the freezer, spread it on the bread slice, grated some jack cheese on top of the beans, then popped it in the broiler. I ate it with an escabeche of onion, jalapenos, carrots, and garlic from the Barrio Brinery, but a little salsa instead is good, too.
You can also make molletes with more than one cheese. The Chicago chef Rick Bayless makes a three cheese mollete that's one of my favorites – jack cheese, cotija cheese (feta is a good substitute), and chevre. Sauteed strips, or rajas, of poblano chiles are also good as a topping, with or without sautéed onions.
This locally inspired recipe is brought to you by Pam Walker. Pam is an avid home cook, writer, and local farm and food activist who is also a board member of the Santa Fe Farmers' Market Institute. Thank you, Pam, for helping inspire us to use locally sourced ingredients!