A Mess of Greens Cooked in Pork Stock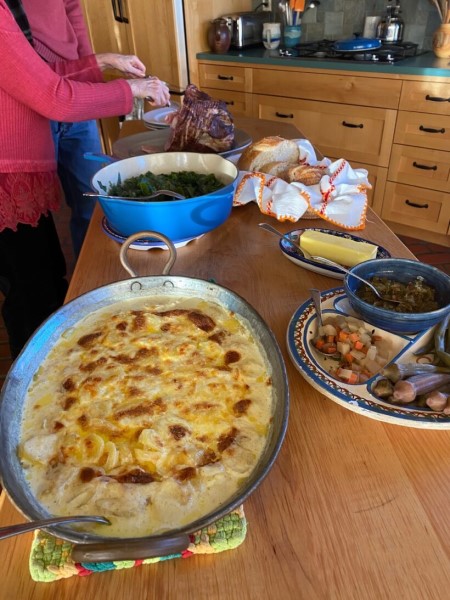 A variety of greens is almost always available at the farmers' market. I recently cooked a mess of them to share with two friends on Christmas Eve. I used collards, a couple of types of kale, chard, beet greens, and turnip greens. I more or less followed Edna Lewis's recipe "An Assembly of Southern Greens Cooked in Pork Stock" from The Gift of Southern Cooking, which she wrote with Scott Peacock.
Yield: Lewis's recipe serves 6 – 8 people. I reduced the greens by half, since I was aiming for four servings. I kept her pork stock specifications and froze the extra stock for future use.
8 cups smoked pork stock
4 pounds mixed greens, such as turnip, mustard, rape, winter kale, watercress, escarole, and chard, carefully washed and stemmed
salt and freshly ground black pepper to taste
To prepare the greens, I washed them thoroughly – no one likes gritty greens! – and trimmed the thickest stems and, for collards, also removed the central stem. I sliced the greens into two-inch ribbons and placed them in batches in the boiling stock, waiting for one batch to wilt before adding another.
Cook just until the greens are tender, about 15 – 20 minutes, and no longer, lest they lose texture and flavor and turn to mush.
I served them the greens along with an artisanal smoked, spiral ham, scalloped potatoes baked in cream, and sourdough.
To make the potatoes, I used a Julia Child recipe, which I previously provided to the institute, and is still available.
I purchased the ham from White Oak Pastures in Bluffton, Georgia, a nationally distinguished farm for its meat production, carbon sequestration, and soil regeneration. Great food comes from great soil, and the ham was outstanding. White Oak Pastures is also distinguished for its regeneration of the local economy: it is the largest employer in the poorest county in Georgia.
This locally inspired recipe is brought to you by Pam Walker. Pam is an avid home cook, writer, and local farm and food activist who is also a board member of the Santa Fe Farmers' Market Institute. Thank you, Pam, for helping inspire us to use locally sourced ingredients!