Simple Mediterranean Salad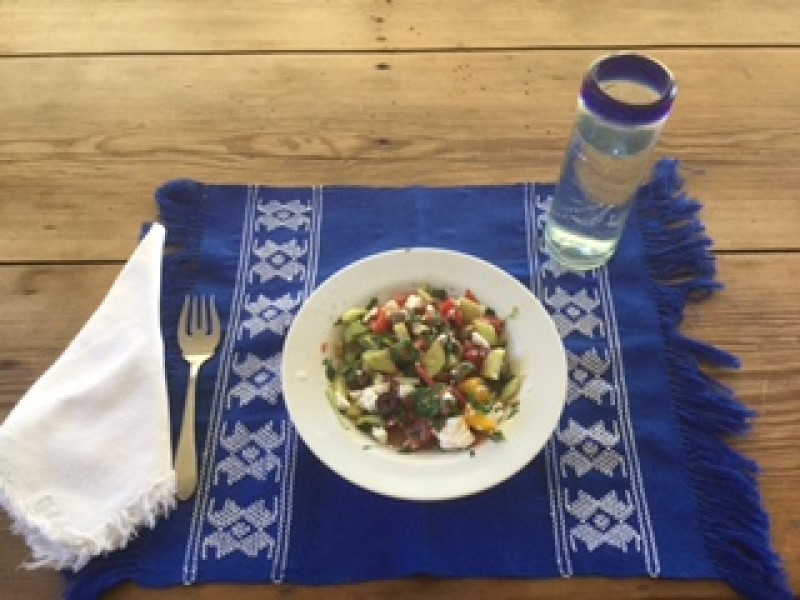 As summer comes on, tomatoes are appearing at the Market. This past Saturday, I bought a couple of dozen of them from Malandro Farm. I also bought scallions and parsley. The previous Saturday, I bought garlic from Stan Crawford's El Bosque Garlic Farm, cucumbers from Freshies, and feta from Camino de Paz. These ingredients inspired me to make one of my favorite salads, a sort of Mediterranean mix that I put together according to the whims of my appetite at the moment, not by following a recipe. I enjoy this salad for lunch or breakfast.
Tomatoes
Cucumbers
Feta
Garlic
Scallions
Parsley
Olives
Olive oil
Vinegar
Pepper
Salt
Tomatoes – I slice or halve or quarter or cut even smaller according to the sizes of the tomatoes.
Cucumbers – I peel and cut into thin slices.
Feta – I cut into small chunks or crumble.
Garlic – I mince one or two cloves, depending on clove size.
Scallions – I thinly slice both green and white parts.
Parsley – I mince as much or as little as I want at the moment.
Olives – I like a mix and halve them or cut smaller if they're fairly large.
Olive oil – I use a little of some organic oil.
Vinegar – I prefer the apple cider vinegar of Mary Campbell, of Rancho Arco Iris.
This locally inspired recipe is brought to you by Pam Walker. Pam is an avid home cook, writer, and local farm and food activist who is also a board member of the Santa Fe Farmers' Market Institute. Thank you, Pam, for helping inspire us to use locally sourced ingredients!