Raspberry Shrub Soda by Heidi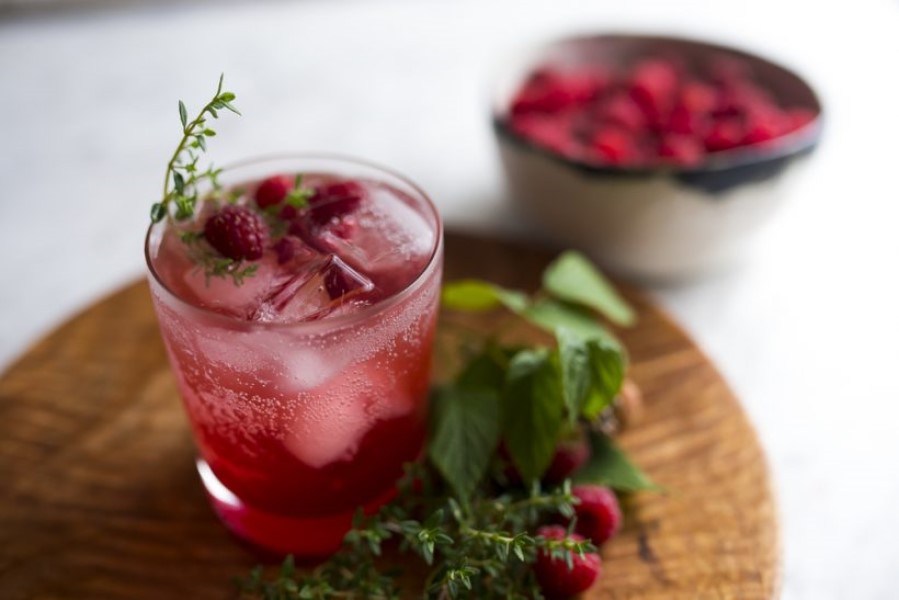 Image courtesy of Four Amongst Three.
Looking for a great, easy way to enjoy your U-Pick berries all summer long? Dive in to the world of shrubbing! Learn how to make a shrub and enjoy your blackberry and raspberry shrubs in a summer soda or cocktail to keep you cool all summer long! Don't forget to send Heidi photos of your creations for her to share on social media!
2 six-ounce raspberries
2 cups granulated sugar
2 cups white vinegar or balsamic vinegar (we experimented with both!)
Combine raspberries and sugar in a glass bowl or lidded container. Stir to combine.
Cover and refrigerate for 2-5 days. Use a fine mesh sieve and strain out all raspberry solids. Discard solids.
Mix raspberry mixture with vinegar and stir well. Transfer to a 1 quart mason jar and keep refrigerated.
Ice to fill a glass
2 tablespoons raspberry shrub vinegar (see recipe below)
12-16 ounces sparkling water
A few sprigs of fresh mint
4-6 fresh raspberries optional garnish
Fill glass with ice, pour raspberry vinegar over the ice cubes and fill the glass with the sparkling water. Stir, and top with the mint and raspberries. Enjoy!
This locally inspired recipe is brought to you by Pam Walker. Pam is an avid home cook, writer, and local farm and food activist who is also a board member of the Santa Fe Farmers' Market Institute. Thank you, Pam, for helping inspire us to use locally sourced ingredients!