Shelly Beans and Summer Vegetables Stewed in Their Own Juices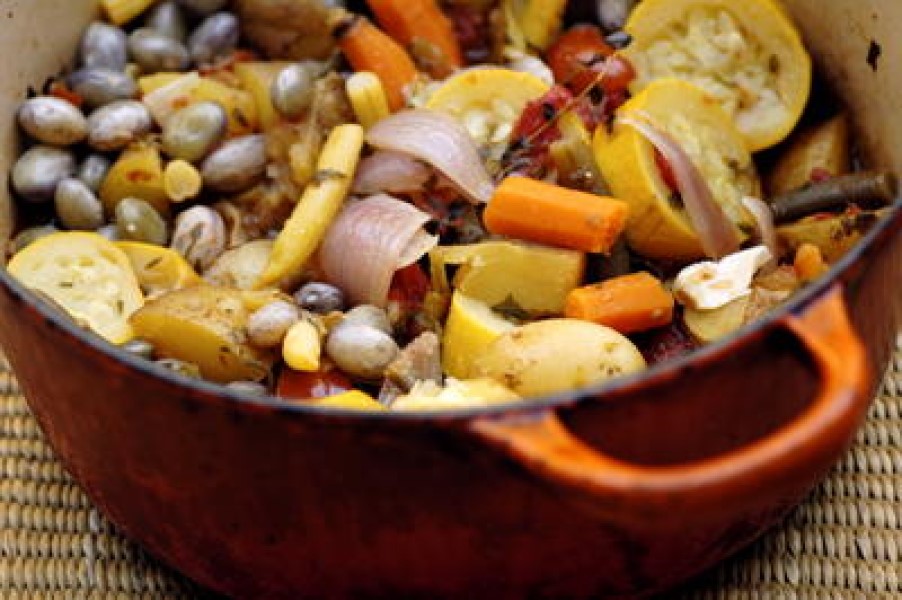 Some of my favorite Deborah Madison recipes are for platter salads and other one-dish meals. During summer, especially, it's wonderful to combine a wide variety of Market vegetables for a range of colors, textures, and flavors. I recently bought some shell beans from Vigil's Chimayo Produce called snake's tongue and included them in this stew. Their fresh earthiness came through, adding nicely to this savory stew.
Recipe courtesy of Local Flavors by Deborah Madison.
3 tablespoons olive oil
2 bay leaves
2 onions, chopped into large pieces
7 plump garlic cloves, peeled and halved, divided
3 thyme sprigs, divided
6 sage leaves
12 small (3- to 5-inch) carrots
Salt and freshly ground black pepper
3/4 pound small new potatoes
1/2 pound yellow wax or green beans, ends trimmed
5 medium tomatoes, peeled, seeded and chopped into large pieces, juice reserved
1 bell pepper, yellow or orange if possible, cut into 1-inch strips
1 pound summer squash, cut into large pieces
1 to 2 pounds shelling beans (2 pounds should yield a generous 2 cups beans)
Packed 1/2 cup basil leaves
1 garlic clove
3 tablespoons olive oil
1/2 cup freshly grated Parmesan cheese
Warm olive oil with bay leaves in a casserole dish or Dutch oven over a low flame. When fragrant, add the onions, 6 of the garlic cloves, 2 of the thyme sprigs and the sage. Cover and cook while preparing the vegetables.
Leave the small carrots whole, but if wide, cut into 4-inch lengths. Add them to the pot. Season with a bit of salt and pepper. If the potatoes are the size of large marbles, leave whole. If large, halve or quarter them. Place potatoes in pot on top of carrots and onions. Add small amount of salt and pepper.
Cut the beans into 3-inch pieces and add them, along with the all remaining vegetables except the shelling beans, to the pot. Season each layer of vegetables with additional salt and pepper.
Pour reserved tomato juice over vegetables, then cover and cook until vegetables are tender, 40 minutes to 1 hour. If the pot seems dry, add tablespoons of water or white wine.
While vegetables cook, simmer shelling beans in water to cover with remaining garlic and thyme and a bit of olive oil. When tender, 30 to 45 minutes, season with salt and pepper. Add the beans, along with any remaining liquid, to the pot of vegetables.
Make the basil puree just before serving. Chop the basil and garlic in a food processor with the oil and enough water to make a puree. Stir in the cheese, then season with salt and pepper.
Serve the vegetables in soup plates and spoon the basil puree over them.
This locally inspired recipe is brought to you by Pam Walker. Pam is an avid home cook, writer, and local farm and food activist who is also a board member of the Santa Fe Farmers' Market Institute. Thank you, Pam, for helping inspire us to use locally sourced ingredients!