Pimento Cheese Dresses Up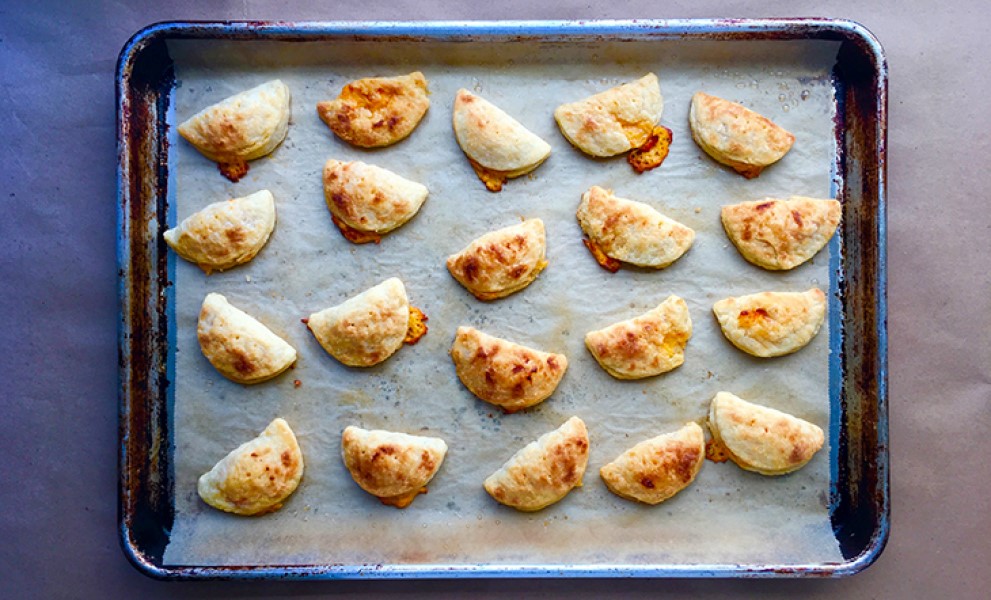 Image courtesy of Yewande Komolafe.
An old southern girl, I'm quite partial to pimento cheese, and am delighted that the latest e-mail from the James Beard Foundation includes this recipe for Pimento Cheese Hand Pies by Ashley Christensen of Poole's Diner, Raleigh, NC. I'd say it's a way to dress up pimento cheese for special occasions or just for plain old private fun.
1 1/4 cups plus 1 tablespoon all-purpose flour
1/2 cup (1 stick) unsalted butter, cut into 1/2-inch cubes
4 teaspoons sugar
1/4 teaspoon kosher salt
3 tablespoons ice water
1/2 small to medium red bell pepper (or 1/4 cup store-bought roasted red peppers, drained)
1 tablespoon cider vinegar
1/4 cup mayonnaise
2 teaspoons finely grated red onion
2 teaspoons hot sauce
1 teaspoon finely ground toasted black pepper
1 teaspoons kosher salt
5 ounces aged cheddar, finely grated (we use Hook's, from Wisconsin)
4 ounces sharp white cheddar, finely grated
Vegetable oil for frying
1 large egg
Make the dough: in a large bowl, whisk together the flour, butter, sugar, and salt. Place the bowl in the freezer for 30 minutes. Use two butter knives to cut the butter into the flour mixture until pea-sized pieces form. Massage the butter pieces between your fingers stretching them into thin ribbons.
Add the ice water to the flour by the tablespoon, stirring to combine. Add water only to the point that the dough holds together when pinched between your fingers; you may not need all of it. Gather the dough into a ball. Press into a disk and wrap in plastic wrap. Refrigerate the dough for 1 hour or up to a day ahead.
Make the pimento cheese: if not using store-bought roasted peppers, place raw the pepper directly over a high gas flame. Use metal tongs to safely rotate the pepper, to char the entire surface. My final step in this process is to balance the pepper on its curvy stem end on the grate of the burner to char that part, about 8 minutes. This insures the greatest amount of char. (If you don't have a gas range, roast the pepper under an oven broiler set on high; rotate it with metal tongs so they char evenly.)
Transfer the pepper to a metal bowl and cover with plastic wrap. Let sit for 15 minutes. Use a dish towel to gently rub off the skins of the pepper; don't run them under water, as this will wash away some of the flavor. Remove the stems and seeds, and finely dice the pepper. You should have about 3⁄4 cup. To pickle the pepper, in a small bowl, combine the diced peppers and cider vinegar; refrigerate overnight.
The next day, combine the peppers and their vinegar (or the store-bought roasted peppers) with the mayo, onion, hot sauce, toasted black pepper, and salt in a large bowl; mix well. Combine the cheeses in a separate large bowl and mix well. Add the pepper mixture to the cheese and mix to combine. Let the mixture chill in the refrigerator for 1 hour before serving; it should be thick but still spreadable.(Note: the pimento cheese can be made a day ahead and refrigerated until ready to use.)
Assemble the pies: on a gently floured surface, roll out the pie dough to 1/4-inch thickness. Working quickly, use a 2 1/2-inch biscuit cutter to cut out circles (you should get about 18). Transfer the circles to a baking sheet and place in the refrigerator for 10 minutes; discard any dough scraps.
In a small bowl, beat the eggs well and set aside. Fill a large cast iron skillet with 3 inches of oil and heat until it reaches 350°F on a deep-fry thermometer.
Working in batches, remove 3 to 4 circles at a time from refrigerator. Brush the edges of each dough circle lightly with egg wash. Place 1 to 2 teaspoons of pimento cheese in center of each circle and fold in half to form a half moon. Seal the edges by pressing down with fingers or a fork; make sure the edges are completely sealed. Use a fork to gently poke holes once on each side of the pie.
Transfer the finished hand pies to refrigerator while assembling the remaining ones.
Working in batches, add the hand pies to the hot oil and fry, turning once halfway through, until golden brown and cooked through, about 2 minutes per side. Transfer to a paper towel–lined plate and let cool slightly, then serve.
You can also bake the pies on cookie sheet for 16-18 minutes at 350°F until light golden brown, rotate once during the bake process. If you choose to bake the pies, then brush tops with more egg wash.
This locally inspired recipe is brought to you by Pam Walker. Pam is an avid home cook, writer, and local farm and food activist who is also a board member of the Santa Fe Farmers' Market Institute. Thank you, Pam, for helping inspire us to use locally sourced ingredients!