Seared Sugar Snap Peas With Green Garlic Aioli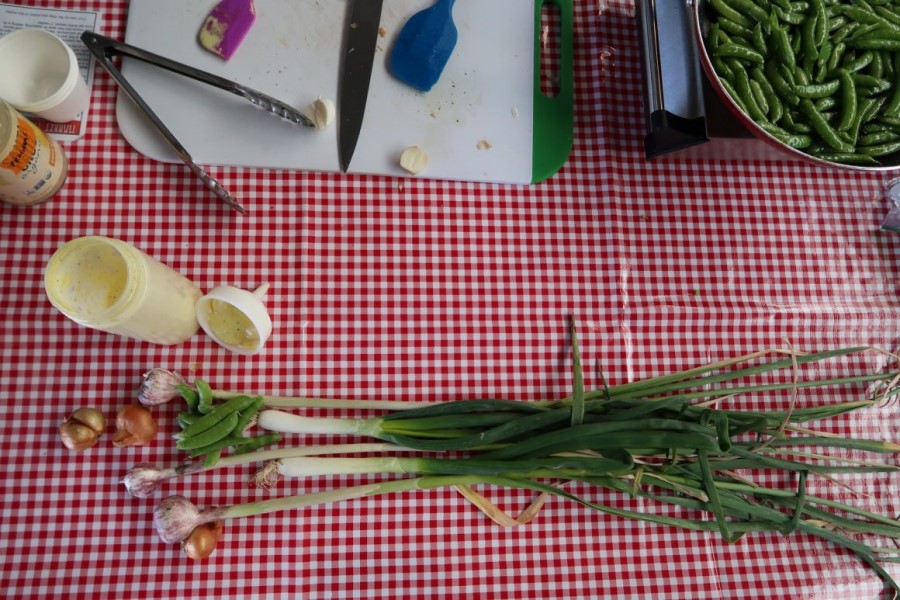 This recipe was shared by Heather at The Cowgirl Gourmet in Santa Fe, which is an adjusted version of this recipe.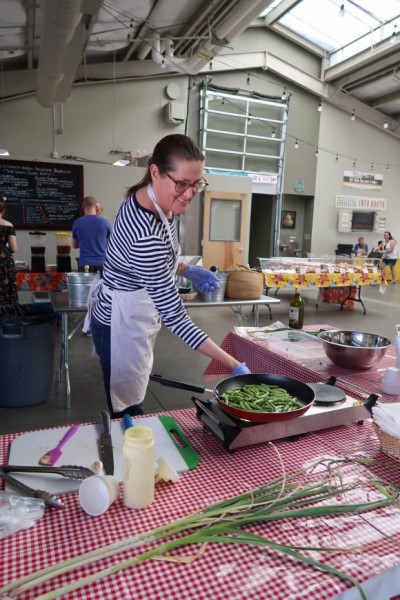 1 small shallot, finely minced
2 tablespoons fresh lemon juice
1 farm fresh egg yolk
2 tablespoons green garlic, minced
¼ teaspoon kosher or sea salt
¼ teaspoon freshly ground black pepper
Pinch of ground red chile
½ cup olive oil or neutral oil of your choice
1 pound sugar snap peas, rinse, remove and discard the top and string from each pod
2 tablespoons olive oil, divided
½ lemon, juiced
Kosher or sea salt
Freshly ground black pepper
Flaky sea salt, such as Maldon, when serving
In a small bowl, place the diced shallot and lemon juice and set aside.
In a blender or food processor, add the egg yolk, green garlic, salt, pepper and, if using, the ground red chile.
Turn on the machine and blend well.
While the machine is running, slowly drizzle in the oil, drop by drop at first, and then in a steady stream, until aioli is thickened and smooth. Gently mix in the shallot-lemon juice mixture and then taste for seasoning, adding a bit more salt and/or pepper, if needed.
In a cast iron skillet or carbon steel skillet, place over high heat and allow the pan to get screaming hot.
When the pan is super hot and smoking, add 1 tablespoon olive oil to the pan, lower the heat to medium-high and drop in the peas. Stir to coat the peas with oil and sprinkle with salt and pepper.
Allow the peas to sear until they get gorgeous black spots. This will take 1-3 minutes, tossing occasionally. Be careful not to overcook the peas, as you want them to remain a little crunchy. Taste one to make sure it's cooked the way you like it.
Once the peas begin to blister in spots and their bright green color mellows a bit, turn off the heat. Add the remaining tablespoon of olive oil, the juice of half a lemon and toss to coat.
Liberally spoon or splash a few tablespoons of aioli on a serving plate, top with the seared sugar snap peas and drizzle with more aioli. Dust with Maldon salt and more freshly ground black pepper and serve immediately.
This locally inspired recipe is brought to you by Pam Walker. Pam is an avid home cook, writer, and local farm and food activist who is also a board member of the Santa Fe Farmers' Market Institute. Thank you, Pam, for helping inspire us to use locally sourced ingredients!