Honey Roasted Carrots With Lavender and Thyme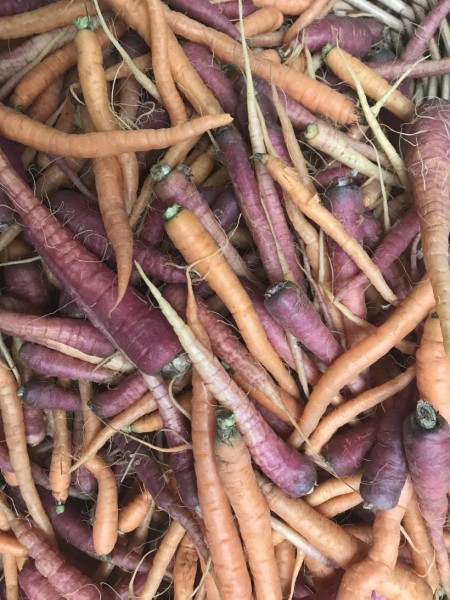 A few years ago, in appreciation of my being a frequent guest at Los Poblanos Historic Inn and Organic Farm, in Albuquerque, I received a small, beautiful cook booklet called Lavender Recipes inspired by Los Poblanos. Its recipes are composed and illustrated by Lauren Bennett, a home chef, illustrator, and photographer who worked as an intern at Los Poblanos when she was in high school. Like many of us, she fell in love with the place, and paid tribute to it by creating the booklet that this recipe (but not the photograph) comes from.
Carrots in beautiful sizes, shapes, and colors are abundant in the market these days. And honey and lavender are constant offerings, with a new harvest of lavender coming soon. What a lovely time to enjoy this recipe!
Yield: about four servings
12 – 16 baby carrots or 8 – 10 medium carrots, sliced lengthwise
3 tbsp olive oil
salt
2 tbsp honey
4 – 6 sprigs thyme
1 generous tsp lavender buds
freshly squeezed lemon juice
Preheat oven to 400 degrees F.
Toss carrots with olive oil and generously salt.
Spread out on a baking sheet and roast for 12 minutes, stirring once.
Remove pan from oven, drizzle honey over carrots, sprinkle with thyme and lavender and toss to coat.
Return to oven and roast until caramelized, about 5 to 10 minutes, stirring once or twice.
Drizzle carrots with desired amount of lemon juice before serving.
This locally inspired recipe is brought to you by Pam Walker. Pam is an avid home cook, writer, and local farm and food activist who is also a board member of the Santa Fe Farmers' Market Institute. Thank you, Pam, for helping inspire us to use locally sourced ingredients!