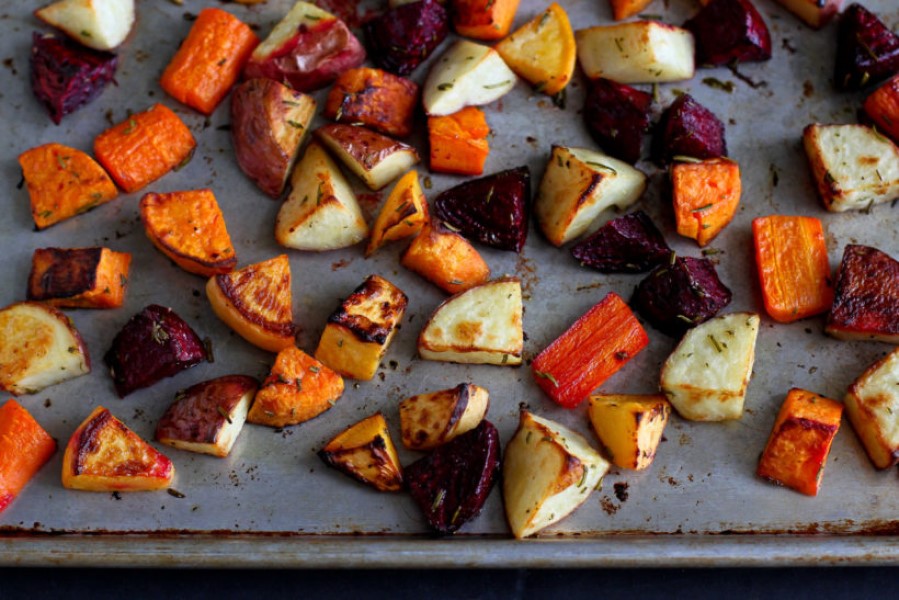 4 carrots
4 medium potatoes
2 medium onions
1/2 tsp salt
pepper to taste
12 whole cloves of garlic (optional)
1/4 cup vegetable oil
Optional: Herbs and spices, such as sage, rosemary, or thyme.
Preheat oven to 425°. Heat pan for 5 minutes before cooking vegetables.
Cut carrots, potatoes and onions into 1/2-inch chunks.
Combine carrots, potatoes, onions, garlic and oil in a bowl. Season with salt and pepper.
Spread in a single layer on a baking sheet
Cook for 45 minutes to 1 hour or until done, stirring every 20 minutes.
Remove from oven, let cool for 5 minutes before
Try other root vegetables to add: beets, butternut squash, turnips, parsnip, yam, celery root (celeriac), rutabaga, kohlrabi…
This locally inspired recipe is brought to you by Pam Walker. Pam is an avid home cook, writer, and local farm and food activist who is also a board member of the Santa Fe Farmers' Market Institute. Thank you, Pam, for helping inspire us to use locally sourced ingredients!