Mushroom-Spinach Soup With Cinnamon, Coriander, and Cumin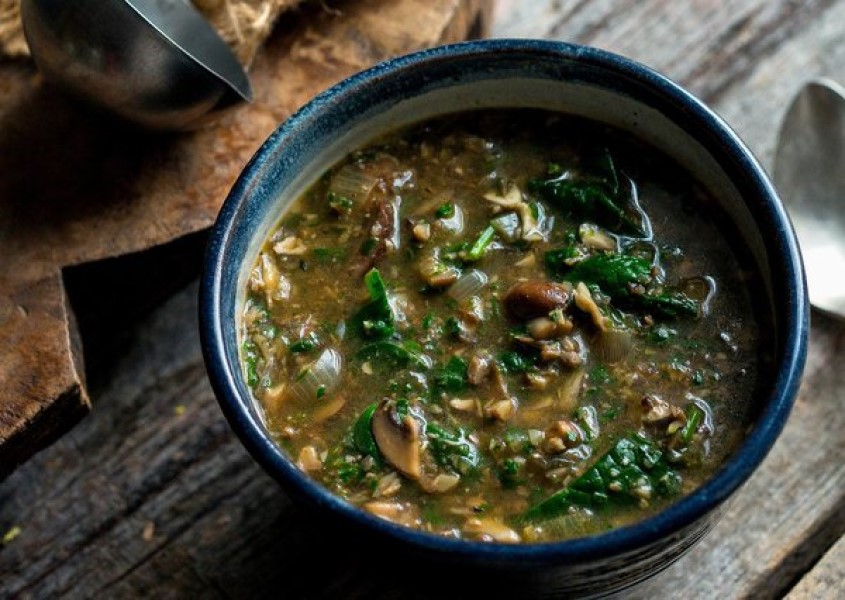 Image courtesy of The New York Times.
Sometimes I crave a soup that's robust in flavor but not heavy. This recipe from Melissa Clark for The New York Times fits that bill perfectly. Mushrooms are a staple of the market, and spinach is making a spectacular and succulent reappearance from Bodhi Farm, Green Tractor, and Santa Cruz Farms, among others.
This is a very hearty, chunky soup filled with bits of browned mushroom and silky baby spinach. A combination of sweet and savory spices – cinnamon, coriander and cumin – gives it a deep, earthy richness. For the most complex flavor, use several kinds of mushrooms and cook them until they are dark golden brown and well caramelized.
6 tablespoons unsalted butter or extra-virgin olive oil
1¼ pounds mixed mushrooms (such as cremini, oyster, chanterelles and shiitake), chopped
½ pound shallots, finely diced
1 tablespoon tomato paste
2 teaspoons chopped fresh thyme leaves
1 ½ teaspoons ground cumin
1 teaspoon ground coriander
¾ teaspoon ground cinnamon
Pinch ground allspice
2 ½ teaspoons kosher salt, more to taste
1 teaspoon black pepper
5 ounces baby spinach
Fresh lime juice, to taste
Plain yogurt, for serving (optional)
Heat 3 tablespoons butter or oil in a large pot over medium-high heat. Add half the mushrooms and half the shallots; cook, stirring occasionally, until most of the liquid has evaporated and the mushrooms are well browned, 10 to 12 minutes. Transfer mushrooms to a bowl and repeat with remaining butter, mushrooms and shallots.
Return all mushrooms to the pot and stir in tomato paste, thyme, cumin, coriander, cinnamon and allspice; cook until fragrant, about 1 minute.
Stir in 5 cups water, the salt and the black pepper. Bring mixture to a simmer over medium heat and cook gently for 20 minutes.
Stir in baby spinach and let cook until just wilted, 1 to 2 minutes.
Using an immersion blender or food processor, coarsely purée soup. Mix in lime juice. Thin with water, as needed. Taste and adjust seasoning, if necessary.
Serve with dollops of yogurt if you'd like.
This locally inspired recipe is brought to you by Pam Walker. Pam is an avid home cook, writer, and local farm and food activist who is also a board member of the Santa Fe Farmers' Market Institute. Thank you, Pam, for helping inspire us to use locally sourced ingredients!