Lamb shanks with white beans in the French style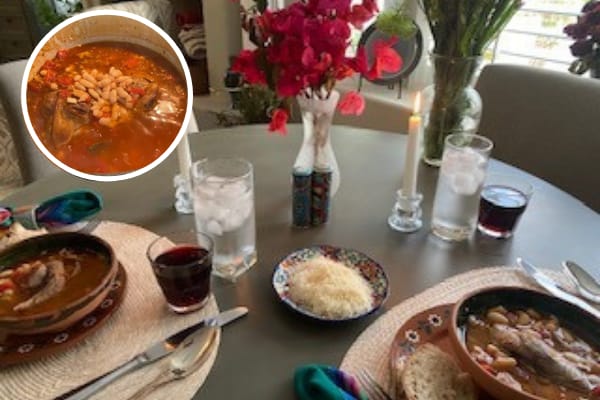 The nights are still cool enough to keep my appetite for a hearty soup or stew strong. With some meaty lamb shanks from Shepherd's Lamb on hand, I recently adapted a recipe by William L. Hamilton in the New York Times and made this lamb and bean dish.
He calls for lima beans, but I had cannellini beans in my pantry and used them instead. I think any white bean would do. Lacking brandy or grappa, I used vermouth instead. The result was hearty and warming. The lamb fell easily from the bones – I used the oven method, not the stove top — and it was moist and succulent. And, like most dishes with tomatoes, the stew tasted even better than the first night as a dinner of leftovers the next night.
1 pound dried baby lima beans
4 small lamb shanks
6 tablespoons olive oil
⅓ cup water
2 medium shallots, chopped
4 cloves garlic, chopped
2 tablespoons brandy or grappa
2 cups good tinned whole tomatoes,
drained and chopped
1 bay leaf
2 tablespoons fresh thyme leaf
4 cups white wine
Salt and pepper to taste
To reconstitute the dried beans, soak them overnight or bring them to a boil in a pan of water, remove from heat, let soak two hours, then drain.
Preheat the oven to 325 degrees.
Heat 4 tablespoons of the oil in a large saute pan. Over medium-high heat brown the lamb on all sides, and set aside. Drain the fat, and deglaze the pan with the water. Set the liquid aside.
In a large, heavy ovenproof casserole, saute the chopped shallots in the remaining 2 tablespoons of oil over a low-medium heat, until translucent. Add garlic; saute for another minute. Add the brandy or grappa and the tomatoes; cook over low heat for five minutes. Add the bay leaf and thyme.
Arrange the lamb in the pan, meatier side down, add the drained beans, add the deglazing liquid from the browning pan, and pour in the wine. Bring slowly to a simmering boil; reduce the heat to a simmer, and simmer five minutes.
Cover and bake in the oven for two hours, or cook on top of the stove for two hours, checking periodically that the liquid is at a simmer, not a rolling boil.
Serve one shank to a person with a cup of beans and liquid.
This locally inspired recipe is brought to you by Pam Walker. Pam is an avid home cook, writer, and local farm and food activist who is also a board member of the Santa Fe Farmers' Market Institute. Thank you, Pam, for helping inspire us to use locally sourced ingredients!